With a rise in hybrid working, companies are looking for ways to make spaces more inviting for staff. To contrast the solo "work from home" routine, many businesses are changing their offices to be much more collaborative, moving towards open plan offices with lots of breakout rooms. This often means complete refits are in order. Moving desks, changing spaces, a lick of paint, and some brilliant finishing touches – all to make the environment nicer for staff.
Shelving 
Storage space is incredibly important in an office, and shelving units often dominate an area. New shelving can make a huge difference to the feel of an office. At IronmongeryDirect, we have a huge range of shelving in multiple finishes, meaning your customers can mix and match fixtures to their décor.
White Twin Slot Shelving System
Silver Twin Slot Shelving System
Black Twin Slot Shelving System
Brass & Copper Twin Slot Shelving System
Door Furniture
Door furniture can give a much-needed boost to any décor, it's the finishing touches that count! We have a huge range of beautiful door handles, protective kickplates and more for your office project that can enhance the atmosphere.
Click here for over 100 kick/finger plates
Click here for over 360 entrance handles and push plates
Click here for nearly 100 navigation signs 
Click here for our range of portholes and vision panels
Door Holders and Closers
 Door holders and closers in offices are essential, and at IronmongeryDirect, we stock a wide range. From automatic door closers and electromagnetic door holders, creating accessible thoroughfares, to fire door closers and concealed fire door closers for keeping doors closing smoothly and safely.
Our range is available in a wide variety of materials and has designs suitable for both lighter and heavier doors.
Click here for our range of over 300 door openers, holders and closers
Need help choosing the right door closer? Check out our door closer guide!
Fire Door Kits
Our fire door kits offer the ideal solution for commercial properties.  They include all of the components you need for your different interior fire door projects, providing cost-effective choices to help you stay on budget.
Click here for our range of 60 different fire door kits
Click here for more than 80 different fire exit hardware products
Washrooms
At IronmongeryDirect, we stock a range of washroom and cubicle hardware for your commercial washroom projects. All of our washroom and cubicle hardware is crafted by industry renowned brands, expertly manufactured for lasting use. Our goods are available at highly competitive prices, with bulk discounts applying to selected products.
Click here for our range of Document M compliant products
Click here for our range of over 180 cubicle hardware products
That wraps up our guide to ironmongery for commercial office projects! For more information about our ironmongery range, you can browse our collection online or speak to our customer service agents about your project.
Head over to ElectricalDirect to complete the project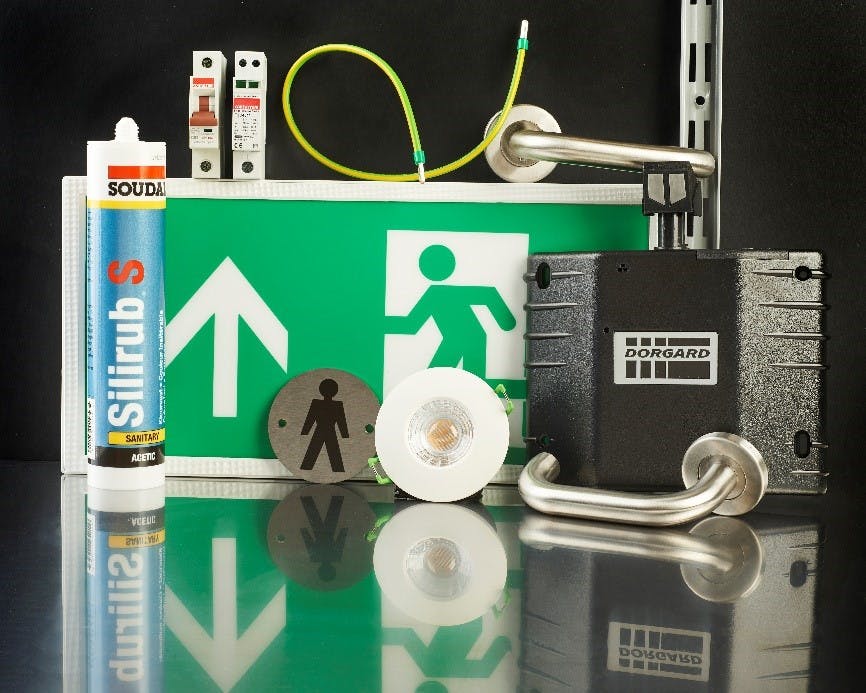 From fire rated downlights to trunking to surge protection devices, we also have a guide on getting the right electrical products for your commercial project over on our sister site, ElectricalDirect.