How do I know if my shed roof needs replacing?
There are a few key indicators that suggest that your shed roof needs replacing, from excessive wear and tear, to rotting and signs of leaks. Even if you do not detect any signs of damage, it is recommended that your shed roof should be replaced every 5 to 7 years.
What you'll need
·         Tape Measure
·         Pencil (preferably a Carpenter's Pencil)
·         Straight Edge
·         Ladder (we recommend having someone help you stablise the ladder)
·         Builder's Knife
·         Hammer
·         Wood Nails
·         Roofing Felt
·         Fascia Boards
Step 1:
The first step in the replacement process is to remove the old roofing, this includes both the felt and the current nails and fixings, this will give you a clean slate to install your new roofing on to.
Step 2:
Once your shed roof has been stripped, it is time to mark up the roof itself. Using your tape measure and a straight edge of your choice, measure where the roofing felt will start and mark either side with your pencil.
Step 3:
Now it is time to measure your roofing felt to ensure that you not only cover the entire roof, but also have the appropriate amount of overhang to leave you with a clean finish. For the cleanest finish, your roofing felt should be cut in to 3 pieces (providing your shed is of average size). This will mean you have one piece for each side of the roof, as well as a piece that will be place in the middle of the roof to conceal any joints.
The recommended amount of overhang is 50mm on the eaves and 75mm on the gable ends.
Step 4:
Now you have all of your measurements, including the eave and gable end overhang, you are ready to cut the roofing felt. It is important that this step is completed with extreme precision, so use your tape measure as a guide. Using your Builder's Knife, cut the felt in to the correct sized pieces.
Step 5:
Take your first piece of felt and place it on to the roof, making sure it lines up perfectly and has the correct amount of overhang on all sides. Once you are happy with the position of the first piece, you can then nail it in to place using your hammer.
When it comes to the second piece of felt, it is important to mark up where it will go in relation to your first piece, to ensure that the entire shed roof is covered. Once this has been completed, the second piece of felt can be moved in to position and installed accordingly.
These pieces should overlap slightly, and should overlap at the top, to ensure that any liquid continues to run down the roof instead of underneath any overlap.
Step 6:
All of your roofing felt should now been in its ideal position, so now using the rest of your wood nails, the felt needs to be fully secured to the roof.
This should be done by hammering your wood nails along the top and bottom sections of your roof with 100mm spaces between them.
Step 7:
With the felt now fully secure, you can focus on the overhang. Using your Builder's Knife, make a small incision in the felt then proceed to fold the overhang underneath the roof and secure it in place using your wood nails, again in 100mm intervals for maximum security.
Step 8:
With your felt neatly nailed in place, the Fascia Boards can now be installed to the edges of the roof. The best way to go about this is to partly secure the boards to the roof to get a rough idea of positioning, then fully secure them when you are confident that they are in the right place.
Step 9:
The final step is to neaten up any overhanging felt there may be after the Fascia Boards have been installed. Take your Builder's Knife and cut off any leftover overhang for a neat finish, and if you find there is any overhang on the eaves, simply fold it over and nail it in to place.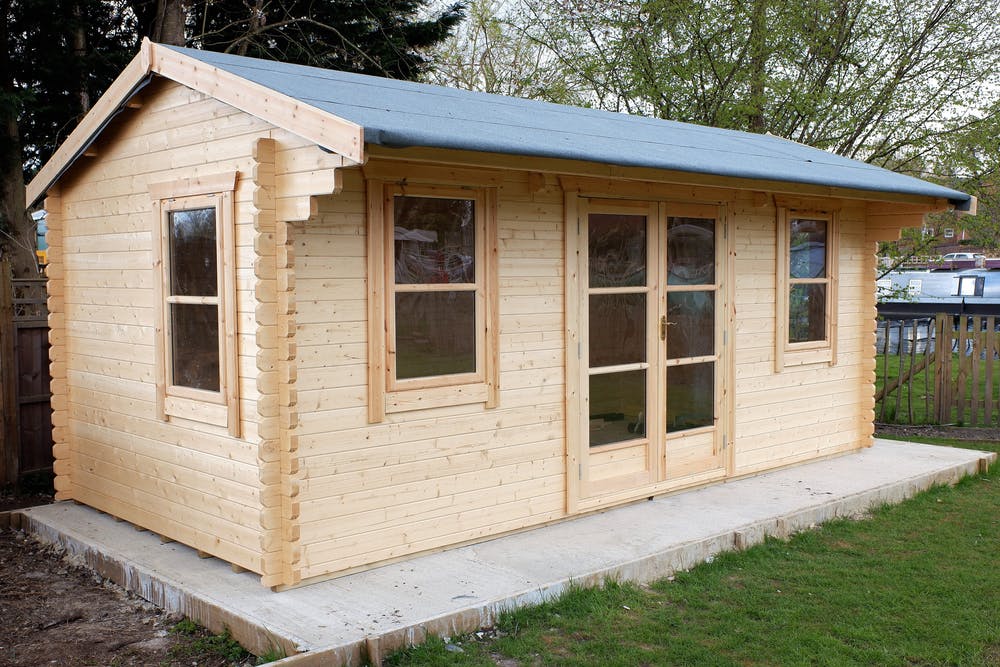 If these simple steps are followed, getting your shed summer ready will be quick and easy. Here at IronmongeryDirect, we stock a range of screws, fixings and adhesives that always ensure a high-quality finish, including nails that are perfectly suited to shed roofing.