The Screws manufactured for the Vida range are not only available in a variety of sizes, but are also designed for both internal and external use, so whether you're conquering home renovation or getting an outdoor space summer ready, Vida has you covered.
All Vida products are backed by a 5-year guarantee, so you can trust that any product from the range is designed to last.
Single Size Screw Boxes
The Single Size Woodscrew Boxes from Vida are available in any size you could need, in pack sizes that are suited to a wide range of jobs. On top of this, the Woodscrews themselves are packed with features that improve ease of use and reduce the likelihood of issues not only during installation, but within the finished result too.
These features include a double countersunk design to reduce the likelihood of head shear, 40-degree deep single thread for a highly secure installation with high pull-out resistance, low torque coating to improve screw insertion time, and an easy start slash to reduce the chances of timber splitting.
These Woodscrews are all-purpose in nature, so whether you're working with various types of wood, engineered wood panels such as Chipboard or MDF, and even thin sheets of metal and plastic, you can trust Vida products to get the job done.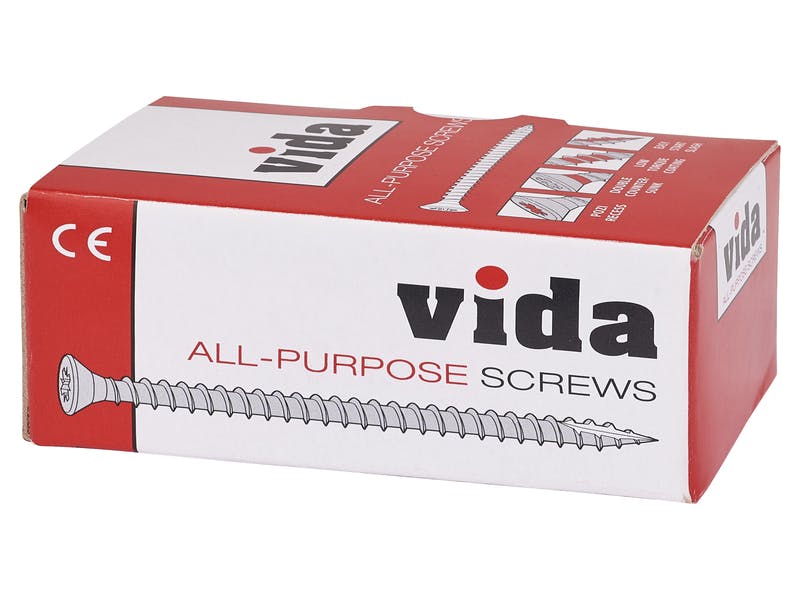 Screw Trade Packs
You can find the same quality and versatility found in Vida Woodscrews in our selection of convenient Trade Packs.
Our Vida Trade Packs are available in 3 types: Standard, Essentials and Masters.
These packs were designed to be geared towards certain types of projects and certain trades, with the Standard Trade Pack being best for general use, with a mix of the most popular sizes. Anything from professional building projects to day-to-day maintenance work can be achieved using this particular Trade Pack.
The Essentials Trade Pack mainly offers the smaller sizes of Woodscrews, and are popular with our DIY customers in particular. There is some crossover with the Standard Trade Pack, but what the Essentials Pack offers is especially excellent value for money.
The Masters Trade Pack is best suited to those larger scale projects, particularly those involving stud or joist work. These zinc yellow passivated Woodscrews feature a double countersunk design and an easy start slash to prevent timber splitting during the installation of very important structural work.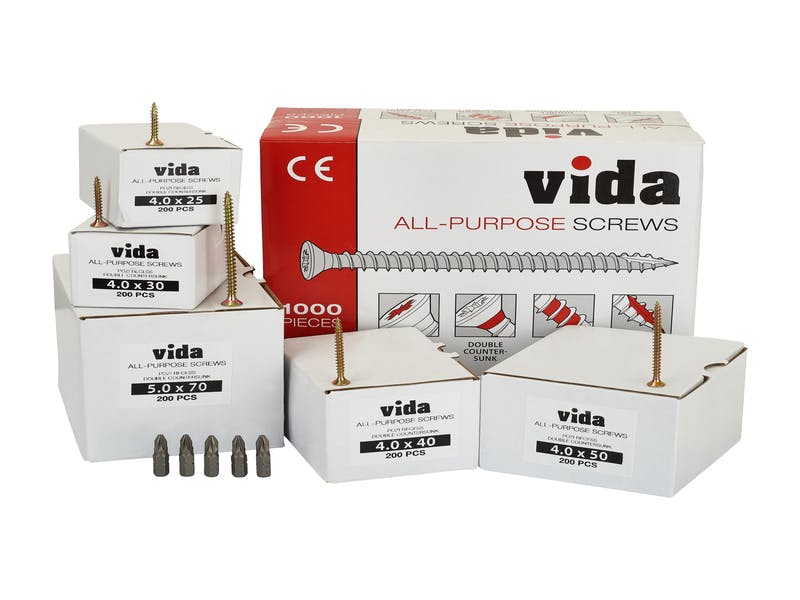 Decking Screws
Vida not only produce Screws that are multi-purpose, but Screws that are designed for specific applications, including Decking Screws.
Along with Vida's other great qualities, these Decking Screws are corrosion resistant, making them perfect for exterior use, and they have been green treated to provide a subtle end result.
Available in 3 different sizes, Vida Decking Screws are a great choice for your next decking project, they are easy to use, durable and best of all, great value for money.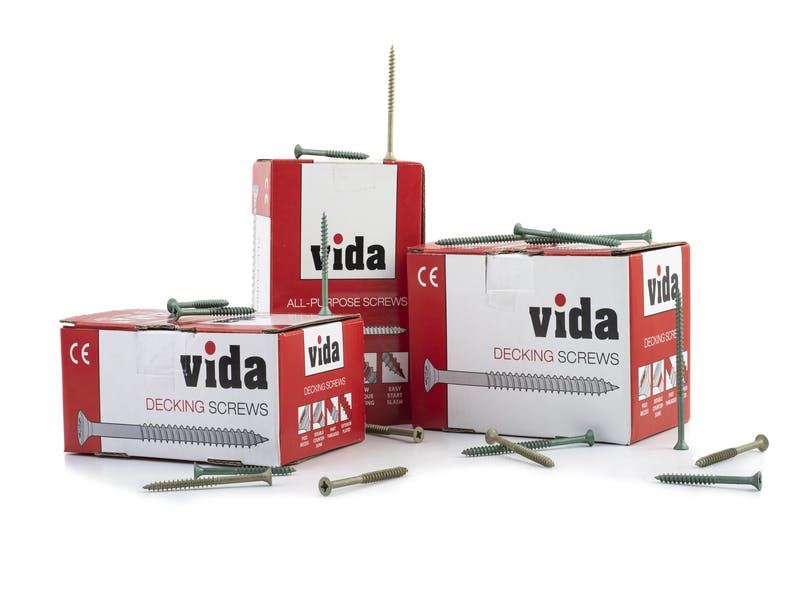 Contour Gauge Tools
Vida not only produce high-quality Screws, but also Contour Gauge Profile Tools in both 250mm and 125mm sizes.
This tool is perfect for any joiner on the job, providing an accurate guide for cutting to accommodate for any curves or contours in both domestic and commercial environments, especially flooring around skirting boards.
The process of using this tool couldn't be simpler, just push the tool against the shape you're working with, lock the gauge in to position, then trace the outline where needed. The locking mechanism on this tool has been manufactured with durability and rigidity in mind, providing consistent effective use.
As well as this simple process, the tool is equipped with both metric and imperial measurements, further expanding on its versatility.
IronmongeryDirect has over 18,000 products in stock which are regularly reviewed to guarantee exceptional value, all with flexible delivery options including free next day delivery when you order online by 9pm (T&Cs apply). To explore the full range of exclusive brands available from IronmongeryDirect, including the Vida collection, visit: https://www.ironmongerydirect.co.uk/brands/vida.