From Bumble Beginnings...
Some may be wondering...why has the bumblebee specifically become such a staple in the Door Knocker market? The answer lies partly in the media outlets that have kept most of us occupied during these times stuck at home, television and streaming services. The much-loved series Bridgerton has not only catapulted the idea of vintage décor into the public consciousness, but the series uses bumblebees as a metaphor to interweave important themes and character developments. This meant die-hard Bridgerton fans wanted to be able to combine the style of door furniture synonymous with the period drama aesthetic of the show, with the subtle nod to the narratives that made them fixated on the show to begin with. This combined with celebs such as Amanda Lamb opting for this style of Door Knocker and sharing a snap with her fans on social media, created a unique trend that no one expected.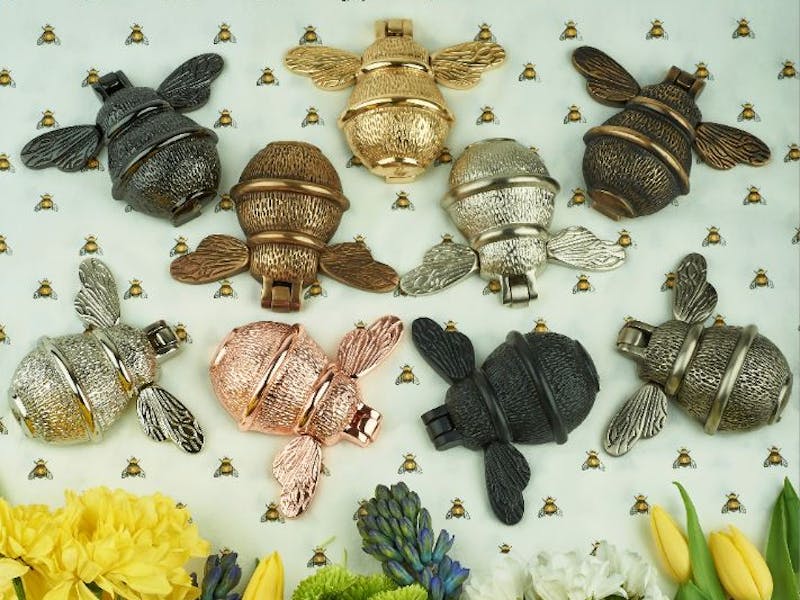 Traditional vs. Tech
Not only is it surprising that the bumblebee Door Knocker is seeing a rise in interest, but with the rise of smart technology being integrated into our front doors, why are people choosing to switch back to traditional methods of alerting someone of your presence at their front door, when the new technologically advanced options have only been available for a few short years? According to a study conducted by John Lewis, sales of smart doorbells increased by a massive 367 percent between 2017 and 2018. Even though the sales of these smart devices have not dropped off by any means, Door Knockers seem to be back on trend ready to compete with the smart doorbells of the future.
A possible reason for the rise in traditional Door Knockers is due to the various safety concerns involving the very gadget that is supposed to keep you protected from intruders.
Numerous tests and studies conducted by experts show significant issues with security and functionality of lower quality versions of high-end doorbells, such as Ring and Nest. These low-cost alternatives being sold on the likes of Amazon and even Wish, have been found to have problems with encryption in the devices means they are vulnerable to hackers and other forms of cyber crime. Fundamental flaws in the devices even lead to one device catching fire, which could have possibly lead to severe damage. This could have lead homeowners to opt for the traditional pieces of front door furniture that have proven to be effective for a number of decades, safe in the knowledge that a traditional Door Knocker will definitely not be spying on them.
Join In On The Buzz
A quick search will provide you with an abundance of options for your bumblebee Door Knocker, including the exact Knocker that Amanda Lamb chose for her front door. Here at IronmongeryDirect, we stock our own versions of this beautiful bumblebee (pictured) with superior quality solid brass casting to guarantee you not only an aesthetically pleasing piece of door furniture, but a long lasting one as well. If bumblebees aren't exactly what you were looking for, but you're still looking for a Door Knocker that is perfect for the aesthetic of your home, we stock a vast range of styles that will leave you spoiled for choice.