Fire Door Certification
Fire doors and fire door hardware must be manufactured and tested to stringent standards to ensure they operate as intended in the event of a fire. Only fully certified doors with a CE Mark, supported with a Declaration of Performance (DoP) and with third-party certification from schemes such as BWF-CERTIFIRE, can be classified as fire doors.
It is vital that all hardware fitted to the door is third party approved to the door standard, as, for example, fitting a non-CERTIFIRE approved component to a CERTIFIRE fire door will invalidate the certification as a whole.
Ensure that any door hardware or ironmongery matches or exceeds the door fire rating. For example, for a 60-minute fire rated door, you must only install products that are at least 60-minute fire rated. However, a 60-minute fire rated product may be used on a 30-minute fire rated door.
Fire Door Hinges
Hinges ensure the fire door closes correctly around all parts of the frame and therefore are a vital component of a fire door's performance. There should be at least three hinges on a fire door that are CE marked to BS EN 1935 with all screws tightly intact.
Hinges must be specified according to the size, weight, application and fire rating of the fire door, and all three hinges must be replaced if the door leaf has dropped, or is showing signs of wear. Intumescent pads should also be fitted under all hinges to comply with the CE marking requirements, with both FD30 and FD60 rated pads available depending on the door requirements. 
More information on the specification and compliance of fire door hinges is detailed in our Fire Protection Guide here.
For our full range of fire door hinges, click here.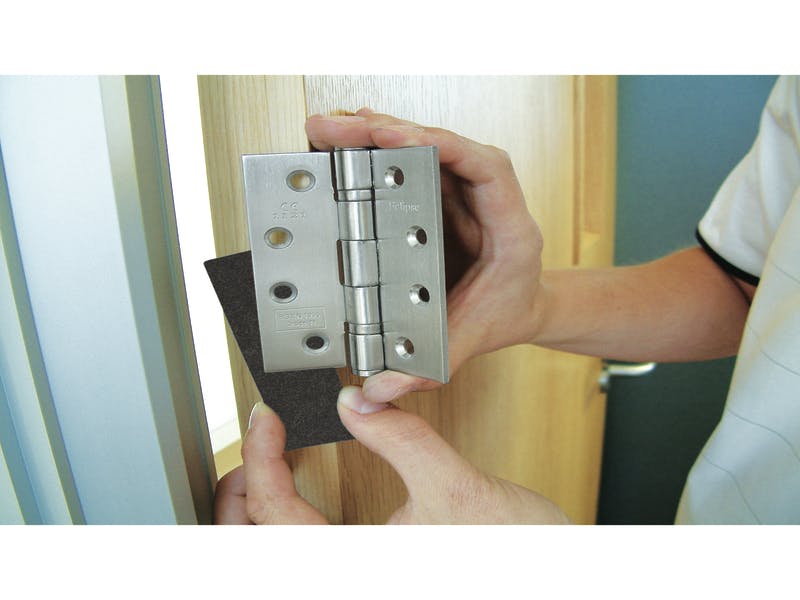 Fire Door Closers
For a certified, self-closing fire door to be effective and legally compliant with Approved Document B of the Building Regulations for England and Wales and its equivalent standards in Scotland, Wales and Northern Ireland, it must be able to fully close by itself and remain closed. This will ensure the door reliably closes to prevent the spread of smoke and fire to protect occupants, as well as provide safe evacuation routes from a building.
Door closers must comply with BS EN1154 "Controlled Door Closing Devices" and be CE marked to this standard with a DoP. However, a CE mark alone does not provide the detail needed to specify the door closer for its application, so should also be approved by a third-party scheme, such as CERTIFIRE. This evidences the tested performance of the door closer and its suitability for different door types – for example, whether the closer is suitable for a door with or without a latch, the length of the test and so on.
The fire door must be able to close from any angle, and not exceed 25 seconds in duration. Fire doors should also be able to function properly for all building occupants in line with the Equality Act 2010. A door closer that meets the maximum opening forces outlined in the Building Regulations Approved Document M and BS8300, will meet the Equality Act's ease of access requirements.
More information on the specification and compliance of fire door closers is detailed in our Fire Protection Guide here.
For our range of overhead door closers, including those suitable for a fire door, click here. 
Intumescent Strips & Gaps
Intumescent strips should be fitted to protect the operational space between the door leaf and the door frame. When exposed to heat, these strips expand to seal the gaps around the door to provide a further barrier to smoke and flames. As a rule of thumb, gaps around the door must be less than 4mm on the sides, and up to a maximum of 8mm below the door.
Building Regulations stipulate that these should be installed on all fire doors and must be maintained and kept in good condition.
Our full range of intumescent strips is available here.
Fire Door Signs
Blue fire door signs must be applied, most commonly stating "fire door keep shut". These signs are mandatory and identify fire doors within a building. There are three types of fire doors, where these safety notices should be applied:
1.    Fire Door Keep Shut
2.    Fire Door Keep Locked
3.    Automatic Fire Door Keep Clear
Signs should be highly visible, affixed at eye level – at 1500mm and must be applied to both sides of the door (unless there is no approach from the other side). Fire doors that form part of an escape route must meet specific installation standards. For guidance, refer to BS 5499:4: 2000 Safety signs, including fire safety signs - Code of Practice for Escape Route Signing.
For our full range of our fire door signs, click here.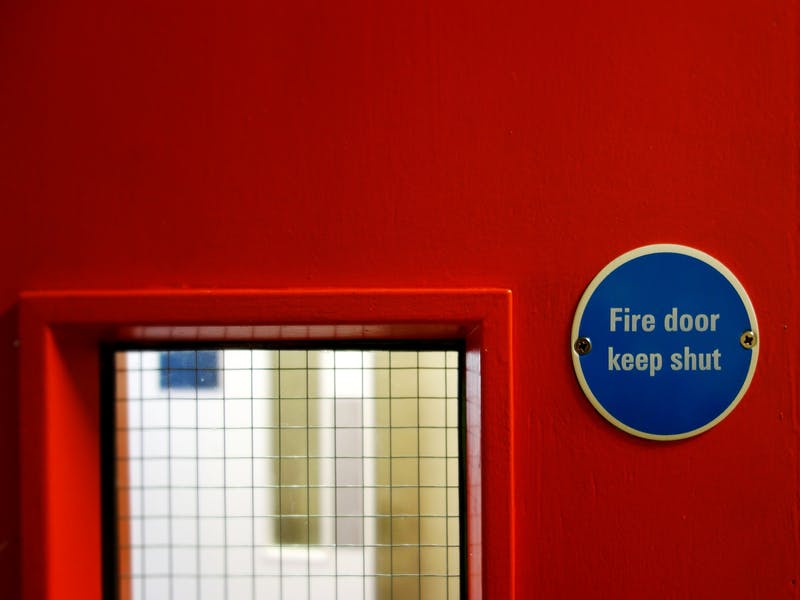 As part of our continued commitment to raising awareness of fire safety and the correct specification of fire safety solutions, we have produced several reference materials that will help ensure compliance. For more information:
·         Read our Fire Protection Guide
·         Read our Door Closer Guide
·         Download our Fire Door Checklist
To find out our Top Tips To Stay Fire Door Compliant, watch the video below: