Whether you're planning a simple refresh, or a wider kitchen renovation scheme, we have you covered. Our Senior Category Manager, David Saxby reveals some key products from our range that can help elevate the heart of any home.
Getting a grip on handles
With options to suit every style and décor from traditional to contemporary, we're proud of our extensive selection of cabinet handles and door knobs. Notably, we're an authorised stockist of British manufacturer, Crofts and Assinder. Specialists in the design and manufacture of cabinet handles and luxury fittings, the Crofts and Assinder range offers a collection of finishes and designs, renowned for their quality, style and suitability across all types of kitchens.
Our popular Monmouth range includes Cup Handles, Knobs and Pull Handles that combine simple geometric shapes with warm edges, perfect for Shaker style kitchen designs. With eleven finishes including Brushed Copper, Chrome and Black Nickel, this range of knobs and handles can add style to any kitchen cabinet.
A top tip for those looking to achieve seamless and modern kitchen finishes, is to consider specifying inset handles. Unlike traditional handles, inset handles are designed to be installed in the top of a drawer, keeping them out of sight. We can supply this solution in a number of sizes and in a stylish Brushed Nickel finish.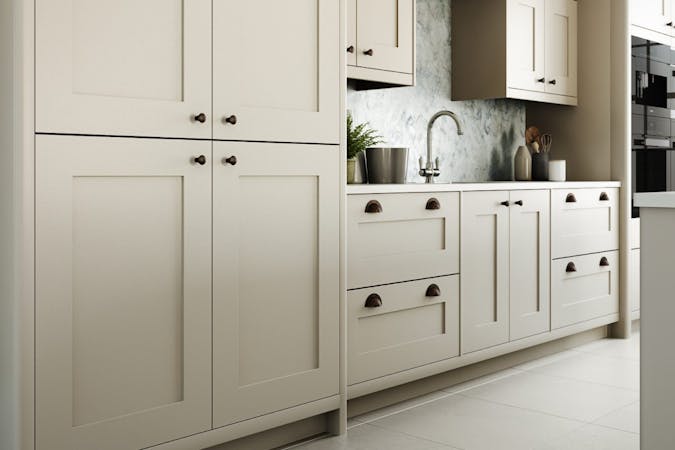 Hidden powers
Pop-up power sockets can help keep surfaces clear of unsightly wires and plugs to achieve an elegant and organised kitchen. In particular, solutions like the SensioPod Pull Up 3 Socket can help create clutter-free zones and help to maximise the feeling of space. The innovative solution, commonly specified in open-plan designs, incorporates two USB ports and a built-in Bluetooth audio speaker, providing users with a multi-functional power solution ideal for kitchens. Thanks to its advanced design, the socket can fully retract whilst products are still plugged in.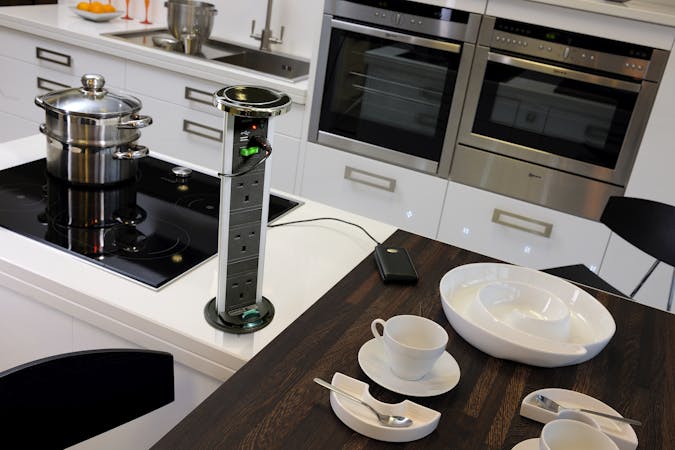 Throw some light on proceedings
Finally, when considering the kitchen design, it's essential not to overlook the importance of lighting. Good lighting has a practical benefit in that it helps to illuminate areas to make food preparation and other tasks easier, as well as helping to create the desired aesthetic at the heart of the home.
A modern trend is to install under-cabinet spot lighting and strip lighting. These products can help create practical, task lighting schemes, which help give kitchens a more contemporary feel. Innovative lighting solutions, such as the ones produced by Sensio, help customers easily take advantage of this approach. The company's range of flexible LED strip lighting is extremely simple to use and available directly from our website.
All of our products are regularly reviewed to guarantee exceptional value, each with a minimum five-year guarantee for extra peace of mind. Free delivery is available on orders over £45 plus VAT and a 'no questions asked' free returns promise. Click here to find out more about our delivery options.