The power of social media for businesses is stronger than ever before but knowing how to get the most out of the popular marketing tool can be tricky. In fact, our latest research shows nearly nine in 10 (85%) tradespeople aren't sure how to use social channels effectively to boost their business, despite half (47%) saying it gets them more work.
In particular, 16% of tradespeople believe social media helps their business more so than traditional word of mouth, due to the platforms allowing them to get ahead of competitors (15%), build stronger client relationships (15%) and allowing them to interact with community groups (22%).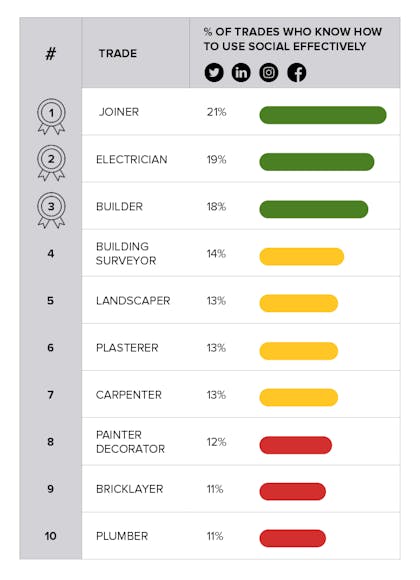 To help you get the most out of social media for your business, our Head of Digital here at IronmongeryDirect, Charlie Carlton, shares some top tips:
1) Add a business page to channels
While you may have started by communicating with customers using your personal Facebook page, setting up a business page allows you to appear more established as well as sharing tailored, more focused content to help secure more work.
Setting up a business page on Facebook is easy, simply log into your personal account and using the plus symbol in the top right, create a page shouting about the services you offer, providing all the information people need to get in touch. Filling this page out accurately is key, as Facebook will use your information to produce your business in relevant searches.
If you're keen to also use Instagram and Twitter, try and keep personal and business separate where possible, creating handles related to your work but including your name, to help people differentiate between the pages.
2) Post effectively
Posting a constant stream of adverts can get irritating to potential customers. Instead, use these channels to share helpful information such as examples of jobs you've done (including before and after shots), and to engage with others in your industry as well as potential customers via sharing and responding to posts. Try and post a few times a week, and always ask yourself if the content is valuable to the people you're trying to reach.
3) Engage with people and other pages
Simply having social channels for your business and posting on your feed isn't enough, it's vital that you engage with other people and browse relevant pages to help spot opportunities and build a following.
Put half an hour aside at the end of the day to browse social feeds, responding to enquiries and monitoring local community groups. If you see someone posting something about a problem they're having or sharing news related to your industry, respond and engage with those people to help build a following and bring in potential new work.
4) Build positive feedback
Building positive reviews is an essential part of using social media to enhance business performance. The first step to do this is ensuring your customer service is always at the top of its game. Be on time, communicate well and tidy up after yourself on every job, and don't be afraid to ask customers to review your work on social media and using Google reviews.
If you're really struggling to get the reviews coming through, try incentivising the requests. Perhaps you can offer 20% off the next job (whether for themselves or for friends and family) or entering them into a small prize draw. Whatever it is, don't be afraid to get creative when building reviews early on, as these will be the backbone of your business.
5) Don't let negative feedback scare you
Getting bad feedback could happen to anyone, and it may not even be about you and the work you did, but just a customer in a bad mood. How you respond to the review is the most important thing. Never allow yourself to show you're frustrated by negative reviews, reply in a calm, polite and helpful manner, offering to come resolve the issue as quickly as possible. Other potential customers will see how you've responded and are more likely to judge you on that than the initial post.
6) Utilise paid ads
Facebook is a great platform for tradespeople to use, not only for its community groups and ability to easily run a business page from your personal account, but also because of its paid ad functions. Paid ads allow you to target certain people in certain locations, meaning you can put your business in front of a vital audience. These kinds of ads can have as much money behind them as you're willing to spend, with the higher the cost the more it will be pushed, making it the ideal advertising technique for everyone, including those just starting out.
Have any other tips for using social media to boost your trades business? Let us know @IronmngryDirect
For more business advice, visit our blog here