What is an escape door?
The Guild of Architectural Ironmongers describes escape doors as, "usually on the perimeter of the building and are the last doors you pass through on the escape route to a place of safety."
There are two types of escape doors to be aware of:
Panic escape doors
A panic escape door should offer building occupants a visible, safe and effective escape route, even if they have had no training in the building's emergency procedures or how to use the exit devices. This type of door is commonly found in premises such as public buildings, schools, hospitals, shops and leisure facilities.
In order to comply with BS EN 1125, panic escape doors should be fitted with either of the following products: 
-       Push bar – this can consist of just a bar or include various locking points for additional security. Push bars are most suitable for high-traffic premises with over 60 occupants.  Products like the Exidor 305 Single Door Panic Bar with mortice actuator are ideal – this particular model is suitable for installations on timber doors up to 1,220mm wide and is supplied with a mortice plate.
-       Touch bar – products like the Arrone Single Door Touchbar Panic Latch do not swing away from the door and therefore prevent the risk of people getting limbs or clothing trapped.
The benefit of push bars and touch bars is that they are easy to operate (and can be used with either hand), thereby minimising panic in the event of an emergency by ensuring occupants can evacuate quickly.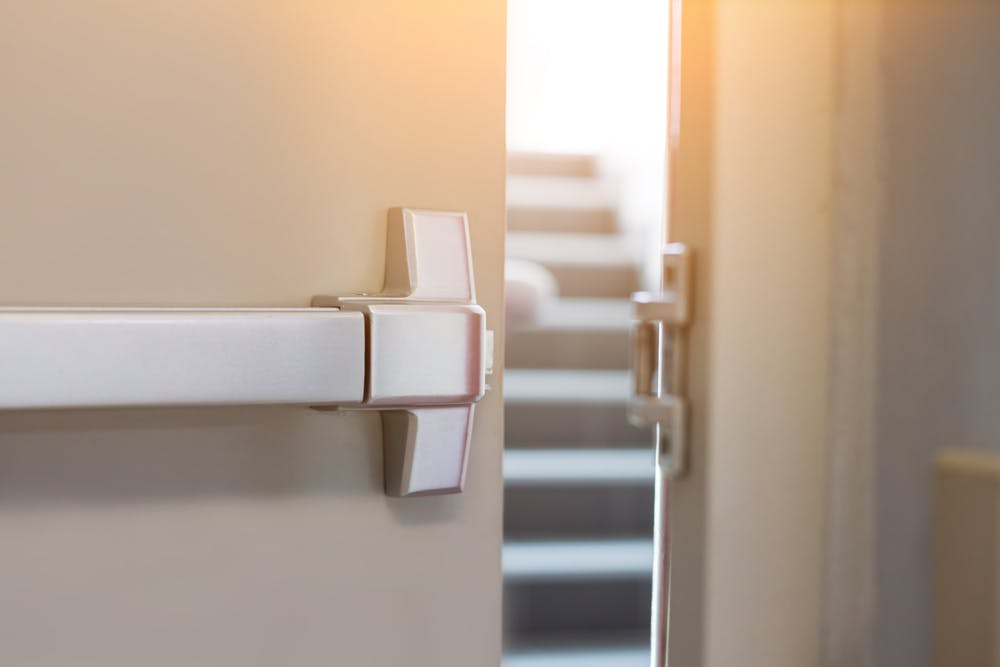 Emergency escape doors
BS EN 179 covers door hardware used in emergency situations where building occupants are more familiar with the exit routes and door hardware, and have even been trained on escape procedures. As such, a panic situation is less likely to occur. This type of door is used in places not accessed by the general public, such as low occupancy places of work where employees undertake regular fire drill practices. In order to comply with BS EN 179, emergency escape doors should be fitted with either a push pad or lever handle that are quick and easy to operate for safe evacuation.
For example, the DORMA PHA2230 Single Door Push Pad Bolt is suitable for timber doors up to 2,245mm high and includes sealed fixings and rods to ensure the hardware cannot be tampered with.
Whether you are looking at ironmongery for panic or emergency escape doors, only specify push bars, touch bars, and push pads that have been CE marked. This demonstrates that the product claims made by the manufacturer have been independently verified, offering reassurance for the end customer and building occupants that the products will perform as intended in an emergency situation.
For more information on fire door hardware specification, including emergency evacuation and panic hardware, please read our Fire Protection Guide.