However, it can be difficult to determine which Shelf Bracket you need to complete your shelving installation, with multiple sizes and many factors to consider before the project even begins. Which is why we've come up with this handy guide to ensure you always choose the right Shelf Bracket for any project big or small.
Size
An important factor to consider when installing shelving is making sure you have the correct size bracket, and this size is dependant on the other elements of your shelving system.
According to a Readers Digest article on the topic¹: "The width of a shelf should be only about 25mm greater than the length of the horizontal arm of the bracket".
The article then goes on to state that the size of Shelf Bracket that should be used is also dependant on the load that the finished shelf with bear.
The size ranges suggested for each load are as follows:
Heavy Load: 75mm x 50mm to 350mm x 350mm
Medium/Heavy Load: 100mm x 75mm to 240mm x 240mm
Medium/Light Load: For a standard Shelf Bracket, a 50mm x 50mm bracket is recommended, but in the case of a radiator shelf bracket, the recommended size is 125mm or 150mm.
Light Load: 100mm x 75mm to 300mm x 250mm
Load
Even though choosing the correct size of Shelf Bracket is extremely important, choosing a bracket with the correct load-bearing capabilities that you need it for goes hand in hand with this.
Shelf Brackets will be manufactured from certain materials and will have specific design features that will give you an idea of what kind of load-bearing capacity is has.
Heavy Load: Often made from high-strength pressed steel and have a maximum load of 100-400kg.
Medium/Heavy Load: Either made from wrought iron or pressed steel
Medium/Light Load: Both the standard and radiator shelf brackets are usually made from steel
Light Load: These types of brackets are often either made from pressed steel or aluminium and have a maximum load of 10-30kg
Design
The design of Shelf Brackets is not strictly for aesthetic purposes, they are often designed in a way that best accompanies the size and/or load bearing capabilities of the finished shelving.
Just like when you consider the size and load capacity of your Shelf Bracket, it is important to consider all other factors when you choose the design.
Heavy Load: It is recommended that if you are installing shelving that is expected to withstand heavy loads, a Continuous Bracket should be used so that the weight can be supported along the entire shelf.
Medium/Heavy Load: Characteristics of Medium/Heavy Load Shelf Brackets often include holes for screws and plastic with a steel pin support.
Medium/Light Load: Medium/Light Load or radiator Shelf Brackets are often designed to be narrower to accommodate for applications where other types of brackets are too large, like reinforcing cabinet corners for example.
Light Load: Light Load Shelf Brackets are the least dependant on their design features to be effective, they just need to include holes for screws.
Our Top Picks
Light Load: Touchpoint Aluminium Bracket – 100mm x 150mm
This simple and subtle Shelf Bracket can be used for light load shelving up to 25kg in both commercial and residential settings. These brackets are available in either white or black to match the other elements of your shelving system and existing décor.
These brackets not only feature a fuss free installation process, but high-quality and a pocket friendly price too. You can shop this and other Touchpoint Shelf Brackets here.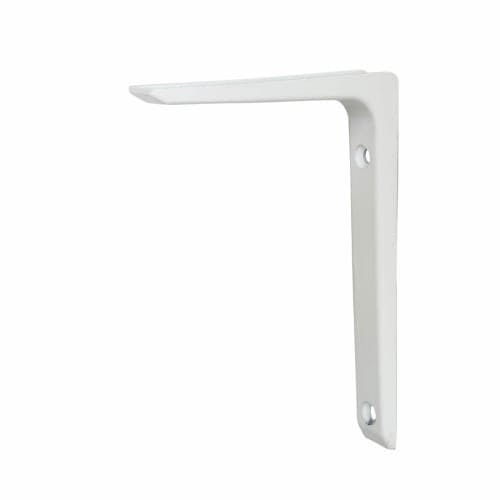 Medium/Light Load: Altro Strong Shelf Bracket With Centre Stay – 455mm x 405mm
This Altro Shelf Bracket is ideal for situations in which shelves may be loaded to capacity, including sheds and garages. This bracket is larger than the typical Medium/Light Load bracket, but this combined with the Centre Stay feature in the design of the bracket offers extra strength and durability, therefore extra peace of mind.
The 50kg maximum load capacity of these brackets makes them an all-round product for a number of shelving needs. You can shop this and other Altro Shelf Brackets here.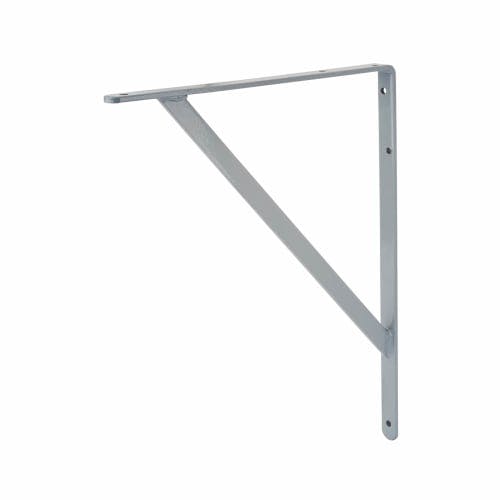 Medium/Heavy Load: elfa Twin Slot Shelving System – Reinforced Shelf Bracket – 570mm Length
This Shelving System is ideal for Medium/Heavy Load storage with a combination of uprights and reinforced brackets. This system can withstand a maximum of 70kg making it not only ideal for commercial and residential settings, but some small-scale industrial environments too.
This system boasts a 10-year guarantee, so you can be sure that this product will give you what you need for as long as you need it. You can shop this and other elfa Shelving Systems here.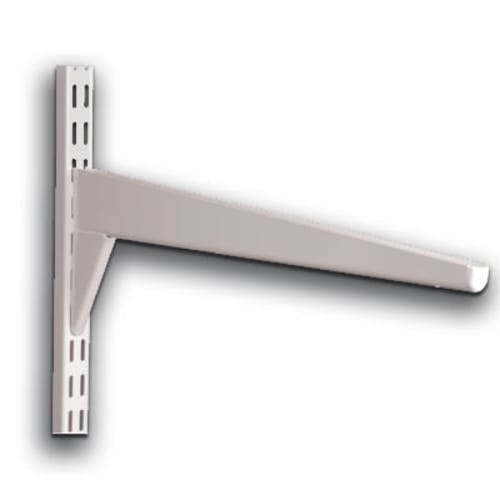 Note: Both the elfa Uprights and Shelf Brackets must be used together
Heavy Load: Rapid Racking Range
Shelving that is required to bear a load this heavy requires a more industrial solution, this is where Racking could be your best choice.
Rapid Racking supplies industrial Racking and Shelving that has a load bearing range between 175kg all the way up to 420kg, making them perfect for storage in warehouse environments, a sole trader or in a domestic setting that requires heavy objects to be stored in a specific way.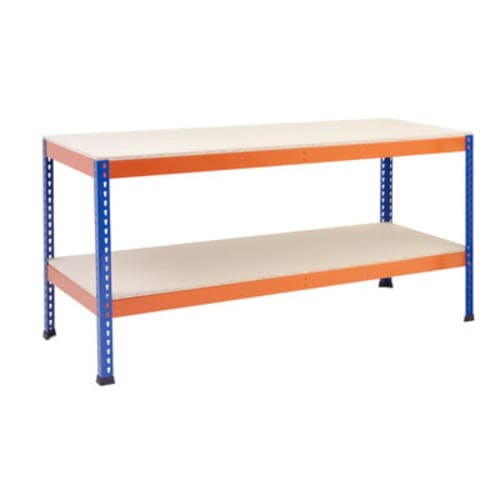 So the next time a client needs to invest in new shelving but doesn't know where to start, you'll have the knowledge you need to guide them through the process of finding the perfect products for them, both practically and aesthetically.
References:
https://www.readersdigest.co.uk/lifestyle/home-garden/how-to-choose-and-fit-shelving-brackets