In this guide, we'll show you exactly how to fit a TV to a wall bracket and reveal some extra tips that you might find useful too.
Tools you need
Before you begin fitting your TV, here are the list of tools you'll require to get the job done: 
-       Power drill
-       Pencil
-       Tape measure
-       Your chosen TV wall bracket
-       Stud finder
-       Drill bit
How to fit a TV onto a wall bracket
1) The first thing you should do is decide where you'd like your TV to be positioned. Bear in mind the viewing angles, that way you can enjoy the best picture quality from wherever you are in the room.
Top tip: For those fitting their TV in their living room, try to place the TV in the centre of your wall, and around 42-inches from the floor. This is roughly eye level for when you're sitting on your sofa.
2) Before drilling any holes, use a stud finder to locate the wall studs. If you're unfamiliar with a stud finder, it's a handheld device that helps to locate supporting structures behind a wall, and ensures you avoid any wires or pipes.
 Move the stud finder up and down the wall until it indicates a stud has been found. Mark the point with a pencil.
3) Use a pencil to mark your pilot holes and then drill into the marked point. These holes will allow your mounting screws to enter the wall easier.
4) Attach the mounting bracket to the wall. To do this, simply hold the mount to the wall and drill the screws into the pilot holes. You may need a family member or friend to help you with this step.
5) If you haven't already done so, remove the stand from the TV. Afterwards, locate the mounting plate attachment holes on the back of the TV. Secure the plate to the back of the TV with hardware provided by your bracket manufacturer.
6) Finally, carefully lift the TV and align the plates on the TV with the bracket on the wall, where it should connect in place. Be sure to follow your manufacturer's instructions, as guidelines can vary depending on your chosen bracket.
Top tip: To execute this safely, make sure you bend your knees to pick up the TV, and lift the TV up by pushing with your legs, rather than bending at the waist to pick up the TV and straightening out your back to lift. If you don't feel comfortable doing this by yourself, then it may be a good idea to ask for assistance from a friend or family member again.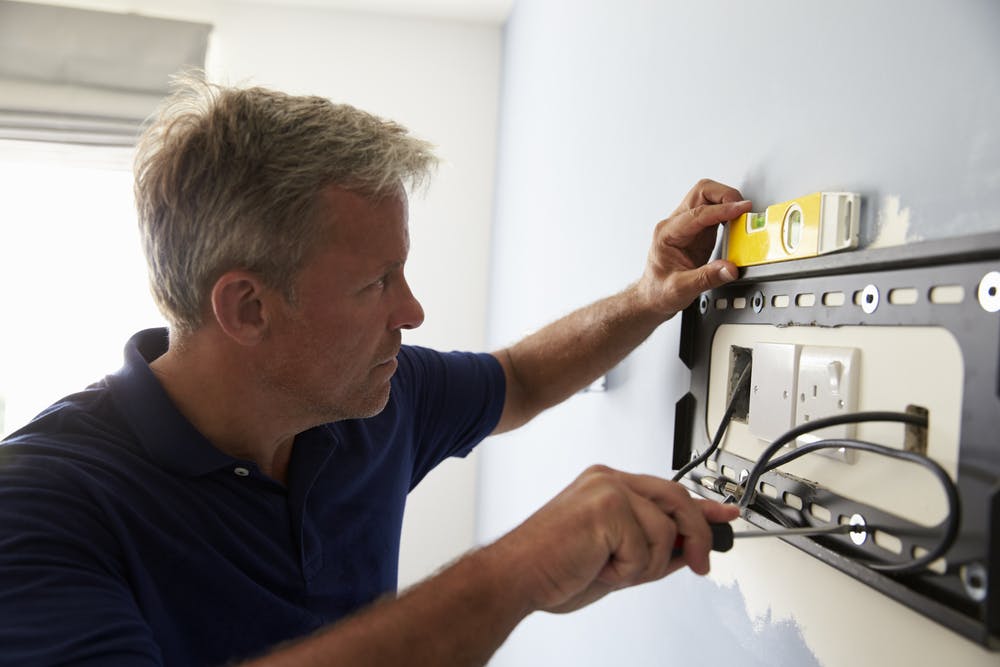 Are TV wall brackets universal?
Generally speaking, most modern TV brackets are universal and can therefore be used on most TVs. The reason behind this is because most TV wall mounts adhere to the standards set by the Video Electronics Standards Association (VESA). Having said that, TV brackets will vary in size, so you should make sure your TV bracket is suitable for how many inches your TV is.
Can you put a TV bracket on a plasterboard wall?
 Yes, you can in fact fix a TV to a plasterboard wall – even if your TV is larger or heavier than average TVs. However, you should still try to locate the wall's studding before you drill any holes.
Are you interested in wall-mounting your TV? At IronmongeryDirect we have a range of industry-leading TV brackets that are designed to help you save space. Find yours today and transform your living room.