An apprenticeship is one of the most popular routes towards a job in a range of trades. If you're now running your own business, you might be wondering how you can take on an apprentice to grow your team, and help someone get their first foot on the ladder. We've put together a short guide on hiring apprentices to help you get started.
What is an apprentice?
An apprentice is a junior member of your team, training both on the job and sometimes at a separate learning facility. Usually through a government scheme, an apprentice learns through a combination of on and off the job training, with the hope of achieving a qualification in the relevant field. It's a great way to develop skills and experience while earning, though the minimum wage for apprentices is lower than the usual national average.
Apprenticeships come in a range of durations, but must last at least a year. There's a range of apprenticeship levels to choose from, resulting in different qualifications and skill levels when complete. According to government guidelines, apprentices in England must match the following criteria:
• Apprentices need to be eligible to work in the UK.
• Apprentices need to spend at least 50% of their working hours in England.
• Apprentices must be over the age of 16, at least by the end of the summer holidays of the current school year.
• Apprentices can't be in full-time education.
• Candidates can't already work in a role that's relevant to the apprenticeship you're providing.
• Apprentices must be available to work enough paid hours weekly, in order to complete the training needed to finish their apprenticeship.
Advantages and disadvantages of hiring apprentices
Hiring an apprentice can be an attractive idea – you'll get to help someone develop within their chosen career, and you'll be able to show them how to complete work to your own standards. While every organisation is different, there are some universal benefits and drawbacks to taking on an aspiring tradesperson.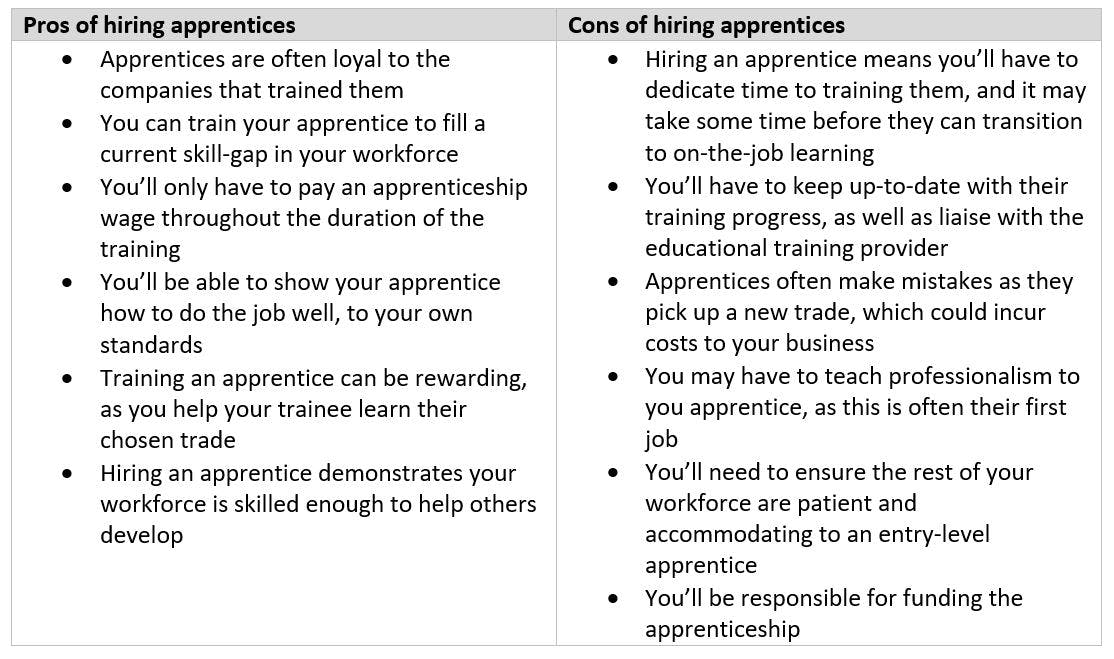 How much does hiring an apprentice cost?
Covering the cost of an apprenticeship is the responsibility of you, the employer. How much providing an apprenticeship costs depends on a number of circumstances faced by both you and your chosen apprentice. However, the cost of hiring an apprentice usually remains lower than hiring a regular, qualified employee.
Apprenticeship funding
The cost of training delivered by the off-site training facility will actually be the responsibility of your business, and not the government. However, government funding is available and you can apply easily online. Depending on the size of your business, you can claim up to 100% of the costs.
Apprenticeship Levy
If your business has an annual pay bill of over £3 million – or are connected to other companies or charities that do – you'll have to pay an Apprenticeship Levy to HMRC. Charged at 0.5% of your annual pay bill, you can read about Apprenticeship Levy charges in more detail here.
Should I hire an apprentice?
While hiring an apprentice can be mutually beneficial, it's not always the right fit for every business. Hiring an apprentice requires a lot of knowledge, teaching, leadership and professionalism from each member of your team. You'll be responsible for your apprentice and their training, as well as teaching them how to be safe and reliable while working in potentially hazardous conditions.
Though, it's not just the commitment and responsibilities to taking on a trainee that need to be considered. As apprenticeships are usually government programmes, there is a number of criteria your business must meet in order to be deemed a suitable place for a tradesperson to begin their training:
• You must be recognised as an official employer by HMRC
• Provide a suitable role that aligns with your apprentice's training programme and desired learning progression
• Allow your apprentice to complete their required off-the-job training, and pay them for this time
• Employ your apprentice for a long enough duration for them to finish their training
• Pay your apprentice the National Minimum Wage for apprentices
How to hire an apprentice
Hiring an apprentice is a fairly straightforward process and can be done in a number of ways. Usually, the educational facility providing off-the-job training to your apprentice will take the lead on registration and qualification processes. To get started, you can either find a course to provide, talk directly to a training facility, or get in touch with an agency.
1. Choose an apprentice course
You can easily browse through a range of apprenticeship training courses on the government website to find the right course for your business. Attached to each programme, you'll find a list of training facilities offering the training to get in touch with.
2. Speak to a training facility
Once you've chosen a suitable course, get in touch with one of the training providers that offers it. It's usually best to choose a facility nearby so your apprentice won't have to make large commutes.
If you're still not too sure about which course you'd like to offer, you can speak directly to local colleges and universities instead. They'll be able to provide information about any relevant courses they run - or point you in the right direction of one running at a different institute.
3. Find funding
When you've chosen the course and training provider you'd like to work with, you can then apply for funding. As previously mentioned, you can do this online through the government website.
4. Advertise your apprenticeship
Once you've set up your course and arranged funding, you can advertise your new apprentice role as you would any other job. You can advertise in local shops and businesses, or you can post the role online on websites like Indeed or Reed. There's also apprentice-specific job boards to advertise on, like the government's own find an apprenticeship service.
5. Employ an apprentice
Once applications start coming in, you can then employ a suitable apprentice to join your business. When you've chosen the successful candidate, you need to make an apprenticeship agreement and commitment statement as well as have the training facility formally enroll them.
Using an apprenticeship training agency
If you'd like to hire an apprentice, but feel put off by the hiring process, you could consider working with an apprenticeship training agency instead. Like recruitment agencies, apprenticeship training agencies take on most of the work involved with hiring apprentices.
They can take care of the recruitment process, payroll, support and training provider connections – but you will have to pay for the service. How much you pay will depend on the services you require, your location, the course you'd like to provide and a number of other factors. You can find a list of government recognised apprenticeship training agencies here.
For more useful information surrounding a range of trades, take a look at our other blogs. You can find a wide range of high-quality ironmongery products for any renovation or construction project over at our shop.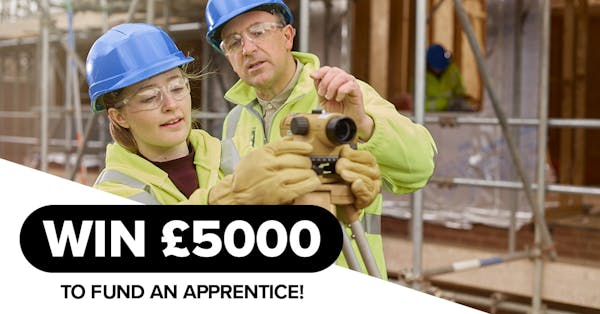 We think that apprenticeships are a great way for people to learn a trade, so we're giving away £5,000 to a tradesperson or company to help fund an apprentice. You can enter the competition by clicking here.