Have you decided to hire an apprentice for the first time? An excellent way of supporting someone embarking on a new career, and a fantastic opportunity to add new talent to your team, there are a number of ways employers can find funding to help with apprenticeships.
The main source of apprenticeship funding the UK is through the Apprenticeship Levy, a scheme created by the government in 2017. However, additional funding is also available depending on your circumstances, so keep on reading to see what you might qualify for.
The Apprenticeship Levy
As we mentioned, the Apprenticeship Levy is the key source of funding for employers looking to hire an apprentice in the UK. The UK's biggest businesses help to fund this scheme, and any company with a payroll of £3 million or more per year is required to contribute 0.5% towards the Apprenticeship Levy. Funding is then made available to companies with a payroll of less than £3 million - roughly 98% of all UK businesses - and can be used towards hiring apprentices.
The government will pay for 95% of your apprenticeship costs, as long as it's within the maximum funding band assigned to you. You'll be required to pay the remaining 5%, as well as any additional expenses if you exceed your funding band. For example, if the training you require costs £5,000, you'll pay £250 while the government will cover the rest equating to £4,750.
Apprenticeship Levy funding can be accessed via something called the DAS. An online portal for employers, from here you can manage your funding and browse for training courses (all approved by the government) that are suitable for your line of work. You can even advertise apprenticeship vacancies and book assessments for your apprentice here.
For more information on how to apply and access funding using the Apprenticeship Levy, check out our blog here.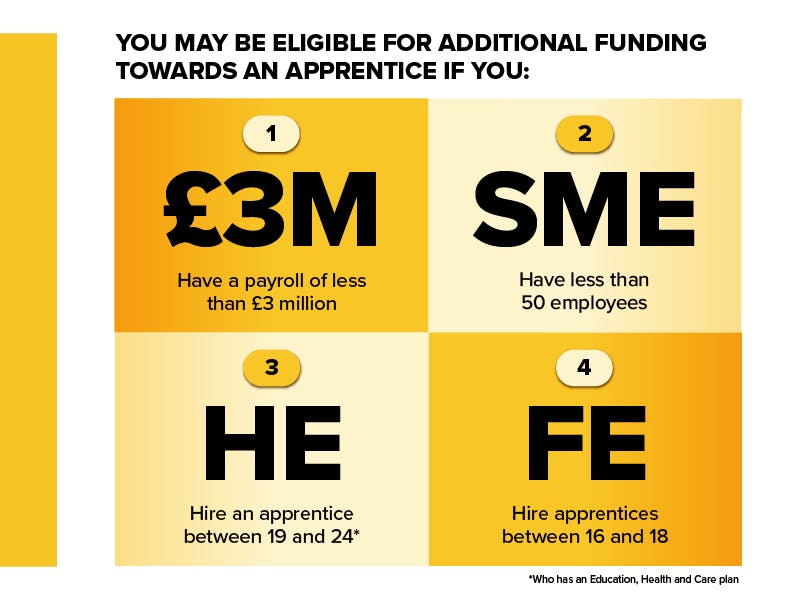 Extra support for small businesses
If you're currently running a smaller business with 50 employees or less, the government may pay for 100% of your training costs, instead of the 95% mentioned above.
To qualify for this additional support using the Apprenticeship Levy, you'll need to meet the following requirements:
Have 50 or less employees
Hire an apprentice between 16 and 18 years old or
Hire an apprentice between 19 and 24 years old that has an Education, Health and Care plan.
If you do qualify for 100% support through the Apprenticeship Levy, you'll still have the freedom to choose the training that best suits your apprentice.
Additional support for younger apprentices
Whether you have 10 or 10,000 employees, and no matter what industry you operate in, all employers are eligible to apply for a further £1,000 in funding as long as the apprentice in question is aged 16-18 years old, or aged 19 to 24 years old and has an Education, Health and Care plan.
The terms above must be correct at the start of the apprenticeship to qualify for additional funding. Two instalments of £500 will be paid to you directly from the training provider you choose.
Plan for Jobs
As part of the government's response to COVID-19, the Plan for Jobs initiative has enabled employers to access even more funding to create new apprenticeships between 1st August 2020 until 31st March 2021.
A further £2,000 is available for apprentices taken on between the age of 16 and 24 - in addition to support already available. £1,500 can also be claimed for older apprentices aged 25 and over - ideal for skilled apprentices who want to expand their skillset and take a high-level apprenticeship.
You can apply for funding up until 30th April 2021.
Support for apprentices undergoing redundancy
We hope you never find yourself in this position as an employer, but if you're facing financial difficulties and need to make an existing apprentice redundant, there are a few things you can do to help them.
The first involves funding. Government funding is available for apprentices for a further 12 weeks following redundancy. They'll have to apply for this themselves, rather than through you, but it will allow them time to find a new employer and continue with their apprenticeship.
Even if they can't find a new employer, they may also qualify to finish their apprenticeship and take their end-point assessment if they've completed 75% or more of their training, or have less than 6 months left of their apprenticeship. The redundancy support service (available on 0800 0150 400) will be able to help them organise everything.
Apprentices may also qualify for Universal Credit and other benefits as additional support, depending on their individual circumstances. Point them in the right direction - such as Citizens Advice - if you're concerned about this.
Want to learn more about hiring your find apprentice? Don't forget to check out our other blogs in the Apprenticeship series here.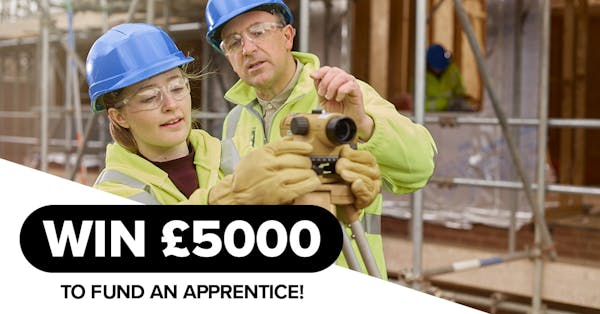 We think that apprenticeships are a great way for people to learn a trade, so we're giving away £5,000 to a tradesperson or company to help fund an apprentice. You can enter the competition by clicking here