However, for many, sole traders in particular, there is one part of their day to day work that has always crossed over in to home life. Part of having your own business means having your own tools, and finding a safe and practical place to store them can be tricky, so we've come up with some handy at-home storage tips so that no one in your household risks stepping on a screw or tripping over a drill ever again.
A common approach to tool storage for sole traders is to keep their tools in their car or van. Many take the sensible approach of fitting locks on these vans to prevent theft as much as possible, however, this is not a guaranteed solution. The figures surrounding van burglary and theft are staggering, according to AXA¹: "A van is broken into every 23 minutes in the UK" and according to RAC²: "since 2016 over 43,000 vans were stolen, that's an average of 30 vans per day.".
Even though anywhere containing possessions is at risk of burglary or theft, there are many more security options that can be set up in the home, and there is no risk of thieves driving your house away.
We stock many forms of storage solutions that can be repurposed to store anything from drills to door hinges.
Cable Confusion
We've all been there, staring at a tangled ball of cables, not knowing where to start and just hoping that you don't make the problem worse. Tangled cables are not only an inconvenience, but keeping cables stored in this way runs the risk of irreversible damage, forcing you to go out and buy a whole new set. But there are ways around this to keep your cables neat and organised.
Even though most would associate Hanging Rails with wardrobes and other clothing storage, you can replace coat hangers with cables for an excellent storage solution.
You can easily install a Hanging Rail System in the style and length that suits you, and what you're left with is a compact space to hang your cables in a neat row completely tangle-free. Now when you need to grab a cable for your job, it will take you ten seconds instead of ten minutes.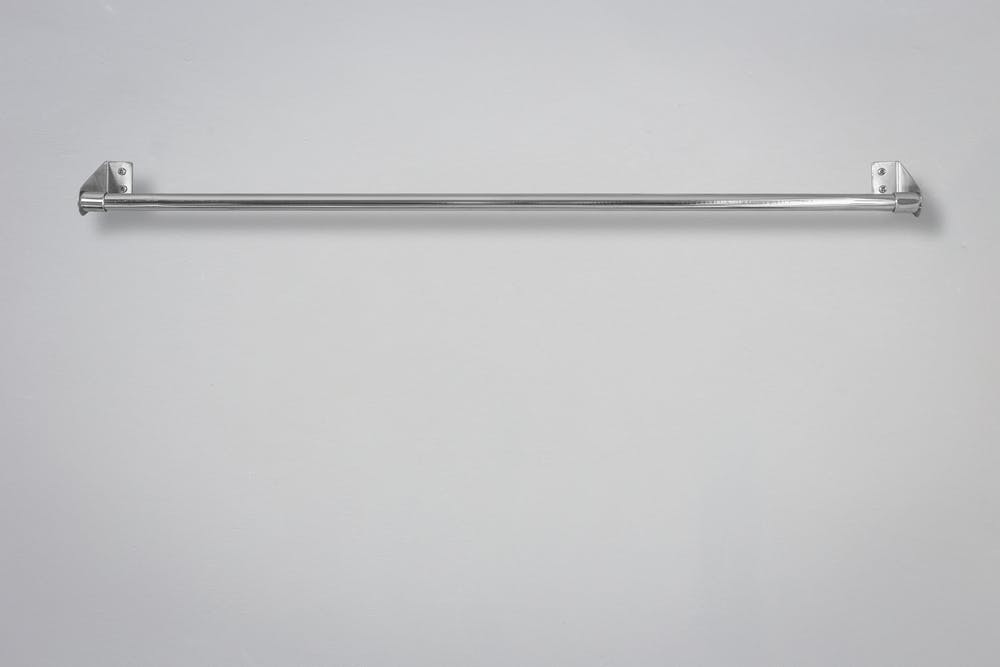 From Spoons to Security Screws
Anyone that works in the trade knows that the little screws and fixings are the building blocks of any project, but they also know that these items are the easiest to lose, therefore misplacing these items can cause work to grind to a halt. As well as misplacing items, your screws and fixings may have become mixed up as a result of improper storage, which will then create confusion and waste time trying to find the correct fixing for your project that day, and you even run the risk of packing the wrong items for that project.
Not only this, if a screw or nail that was just left out falls on the floor, this can lead to a number of safety risks and can result in injuries to yourself and others.
This issue can easily be resolved with a product usually associated with storing kitchen utensils, the humble cutlery tray.
The separate compartments of a cutlery tray would be perfect for storing different types of fixings to make sure that they are kept together and in order. The varying sizes of these trays means they can slot in to several types of drawers to keep your fixings not just organised, but stored away to prevent any safety risk situation.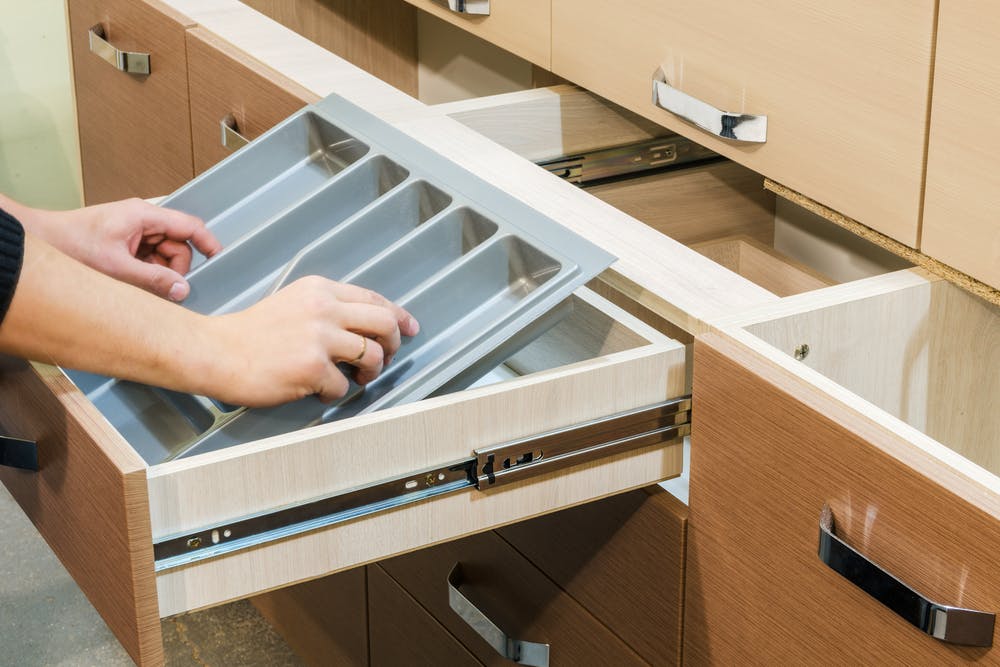 Straightforward Shelving
When it comes to storing larger equipment at home, Shelving will always be the best option, keeping power tools and various other items organised to prevent aesthetic and functional damage, as well as being out of reach of anyone that could possibly be injured. It is important to invest in Shelving that is designed to take on the task of holding large and heavy equipment, in this case, Racking could be a great option for you.
Racking is used in many large commercial warehouses for industrial purposes, but this type of shelving is just as accessible to a sole trader storing tools in a garage. Racking is available in several shapes and sizes, so you're sure to find one that is the perfect fit for your space and the amount of equipment and tools you're looking to store.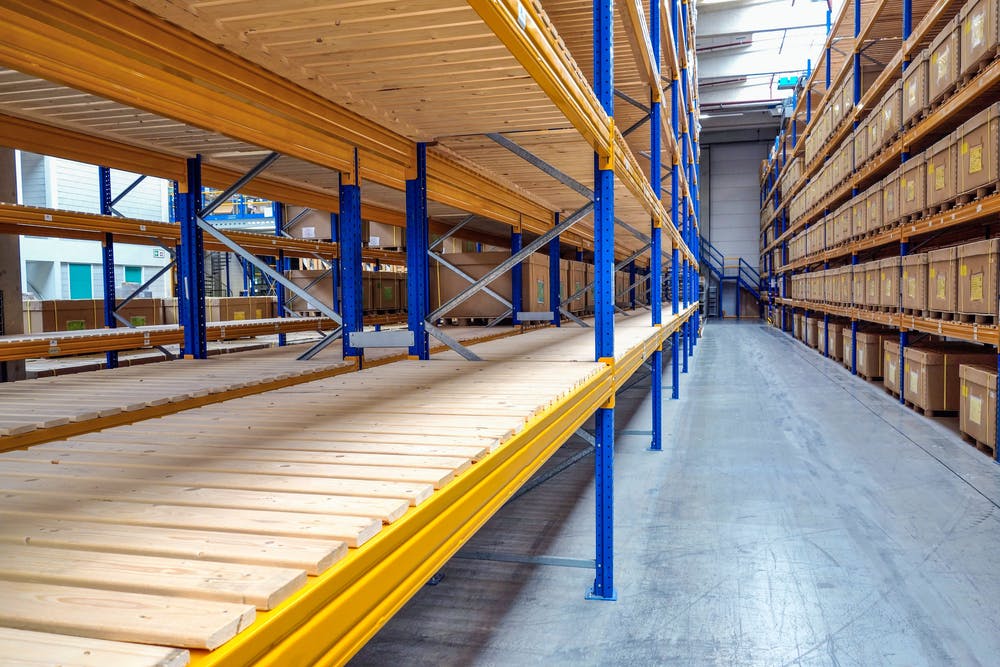 If the more heavy-duty shelving is not what you need, there are many other shelving solutions that can be used to store smaller, more lightweight items in a way that is just as efficient.
Building your own shelves can be as simple as installing Shelf Brackets and a piece of solid wood or metal, and there are several options available to create custom and multi-purpose storage solutions.
Once your basic shelf has been constructed, all you need to do is create holes in the wood in custom diameters dependant on the tools you are planning to store, being cautious of finding the right balance between being able to remove and replace the tools easily after use and making sure they are a tight enough fit to stay in place while stored. This method works particularly well for hand tools such as screwdrivers and pliers.
Now you're ready to turn your garage or at home workshop from a disorganised mess in to an efficient haven for all the tools and fixings you could possibly need, so you can grab what you need and start your day right.
To find out more about our wide range of Shelving and Storage Solutions, click here.
References:
https://www.axa.co.uk/van-insurance/how-to-keep-your-van-and-its-contents-safe/
https://www.rac.co.uk/business/news-advice/uk-van-theft-on-the-rise