During lockdown, many Brits turned to DIY to help them pass the time, and when it comes to tackling your own home renovations, tradespeople are better equipped than most.
We ran a competition to discover the best examples of tradespeople using their professional skills to improve their own properties and we received all kinds of brilliant entries, from tree forts to Cavern Club replicas.
But there could only be one winner and Colin Davies, a 57-year-old former British Gas Engineer from Liverpool, took top spot and won a £250 IronmongeryDirect voucher.
Colin used his trade skills to completely transform his back garden into an attractive outdoor kitchen.
Below, you can see photos of Colin's prize-winning project and tips from the man himself on how you can create your own version.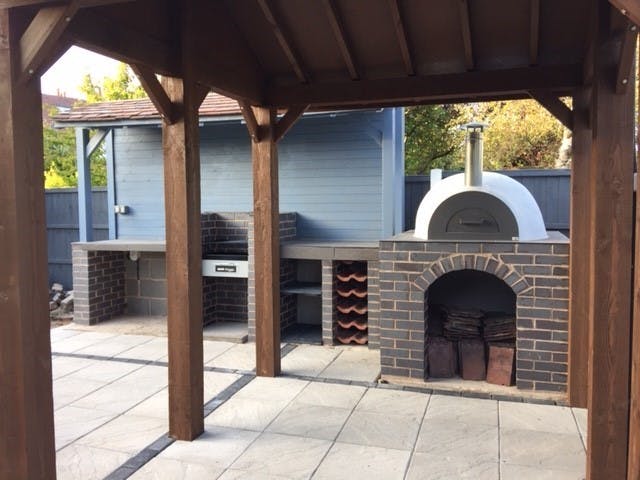 Step by step guide:
1) Make a detailed plan
It's important to plan your project before you dive in, so that you don't end up making mistakes and wasting time and money. Measure your garden and sketch out your project on a piece of paper or on a computer.
Make sure you do it to some level of scale, with the correct dimensions, so everything fits how you intend it.
2) Clear and level the space
The next stage is to completely clear the space you're going to be working in. This was all Colin originally set out to do, but once he'd cleared the rubbish from his garden, it became clear that there was an opportunity to do something greater. By clearing your garden, you'll have a better idea about how you can rework it.
Once this is done, you need to make sure that the ground is level, adding a combination of soil, sand and compost to flatten any dips.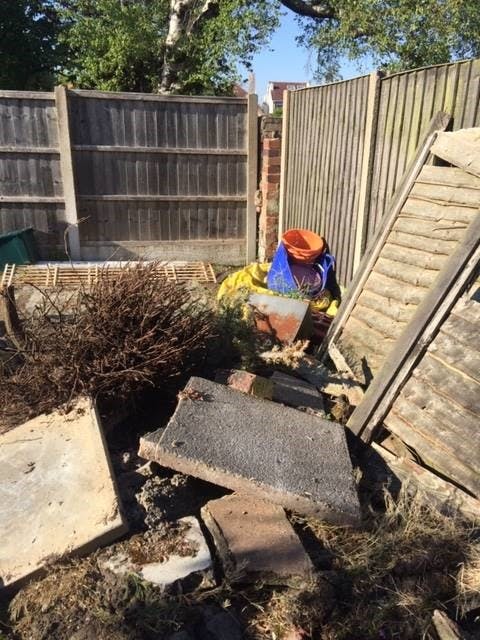 3) Identify the materials and tools you'll need
Now you've got a flat garden, Colin suggests physically marking out your plan onto the ground. He used spray paint and drew on the grass where every aspect of the kitchen was going, to help him visualise how everything would look together.
It's then time to work out exactly which tools and materials you'll need. It helps to list out all the individual jobs that your kitchen will involve. Online calculators, such as this one, are useful for materials, helping you to decide how many bricks, flags and other pieces you will need for your project.
Colin suggests seeing what materials you, your friends and family might have lying around, as they could be useful. He got a few bits from his neighbour and used his own old, broken-up pallets for some of the woodwork.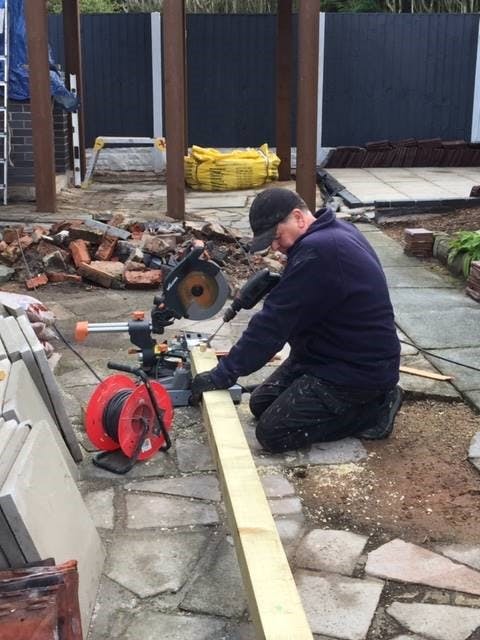 4) Lay your foundations
One of the pieces of kit you'll definitely need is a cement mixer, which you can either hire or buy. Colin says trying to mix the mortar and concrete by hand is back-breaking work and will take much longer, so a mixer is certainly advised.
Use it to help you lay your foundations. You need to make sure they are of sufficient depth to support the weight of the brickwork and timbers, with the wood-fired oven and BBQ sections being particularly heavy.
Colin added a weed control membrane underneath his paving slabs to help stabilise the ground and prevent weeds from coming through.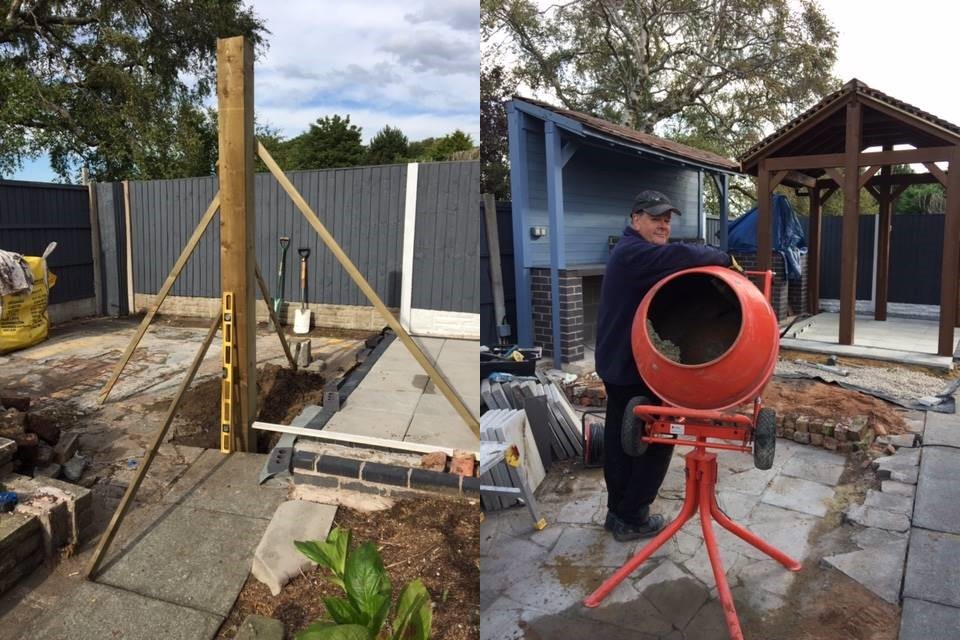 5) Lay the bricks
Now it's time to begin building! Practice setting out the bricks without the mortar first, then when you start for real, go slowly. Do it bit by bit so everything is aligned neatly.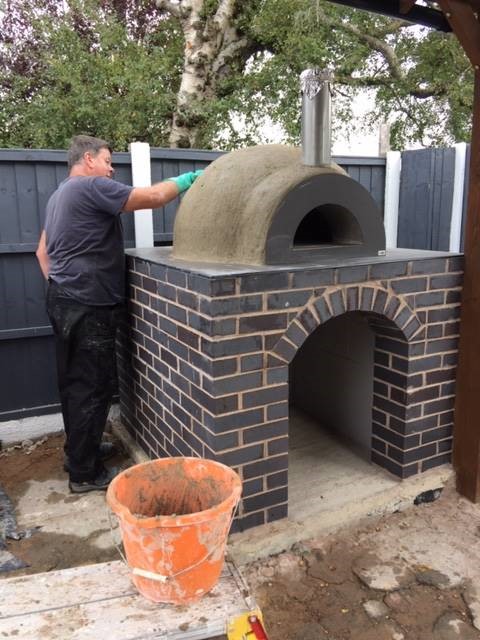 6) Add a roof
Once you have your structure in place, you need to add your roof. The first stage is to calculate the roof pitch and there are websites that can help with that, such as this one.
If you are not an experienced joiner, practice making the angles and joints for the roof using spare cuts of wood first, so you don't waste any expensive timber.
Colin used marine ply and stained it to give the wood a nice smooth finish. Once this was done, he added the membrane and battens on top, which supported the roof tiles.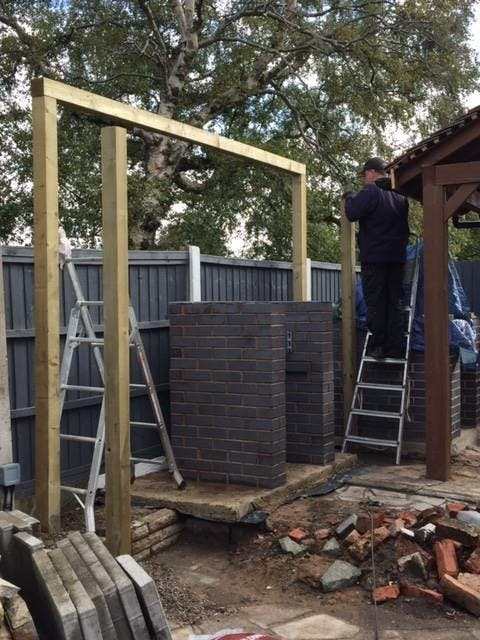 7) Install drainage
If your roof has no drainage system, make a soakaway to take the surface water away from the kitchen area.
8) Add the electrics
If you're not a qualified electrician, hire one to wire up your kitchen. The risk of damage and injury is too great to attempt anything you're not qualified to do.
9) Recycle and tidy
Clear up your new kitchen space and check your local area to see if you can recycle any of your spare materials.
10) Enjoy your new outdoor space!
Now sit back, fire up your new oven and enjoy the luxury of having your very own outdoor kitchen!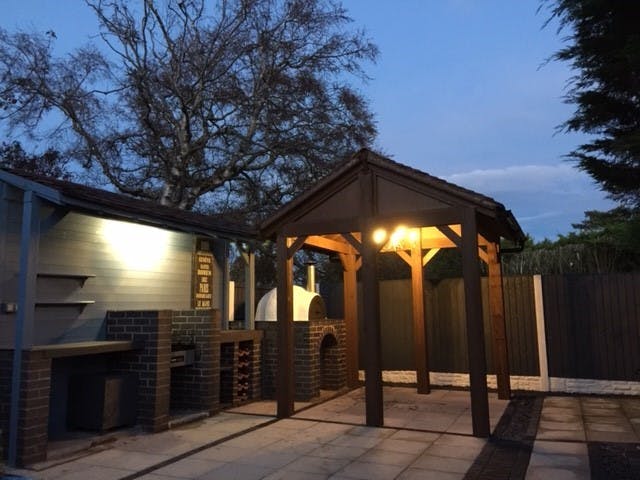 For any of your ironmongery needs, be sure to check out our range here: https://www.ironmongerydirect.co.uk