Keeping yourself, your colleagues and your clients safe while you're working on a job is extremely important, and making sure your knowledge of health and safety signs is up to scratch is a must for any tradesperson.
Learning to understand safety signage might feel daunting at first, but it's a lot easier than you think. For a start, there are only five main types, each defined by a unique colour and/or shape.
Universally recognised, once you've got to grips with safety signage, you can also work confidently anywhere in the world. So if you're ready, let's get started with the basics below.
Prohibition Signs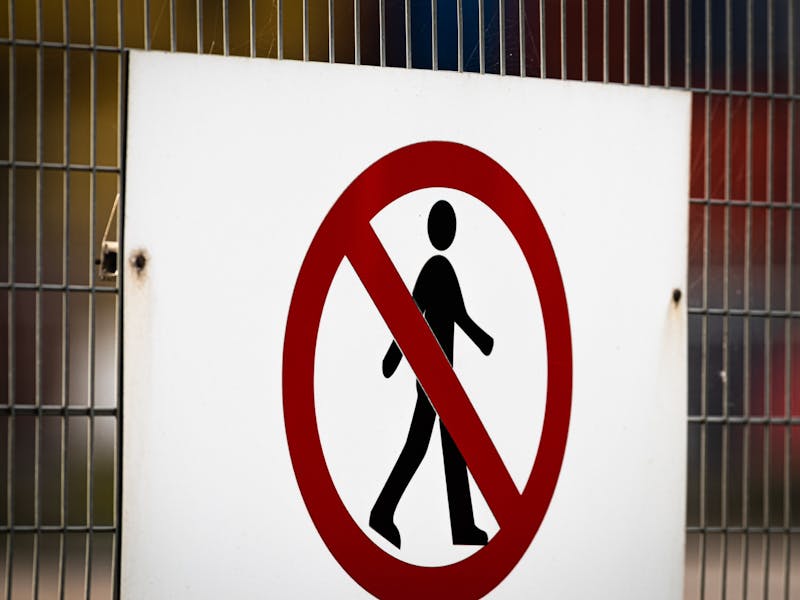 Prohibition signs are, perhaps, one of the easiest to recognise. They're red in colour, circular in shape and feature a diagonal line that cuts through the centre of the circle. Prohibition signs are used to tell people not to do something, to stop or to evacuate.
Typically, in the centre of a prohibition sign you'll see a black pictogram. This will sit behind the diagonal line, and will let you know what should not be taking place. If no pictogram is visible, text is usually used to get the message across.
For example, a prohibition sign with an image of a dog means that dogs are forbidden in the area, while a cigarette indicates a no smoking area. A flame and a match refer to "no open flames", and so on and so forth.
Warning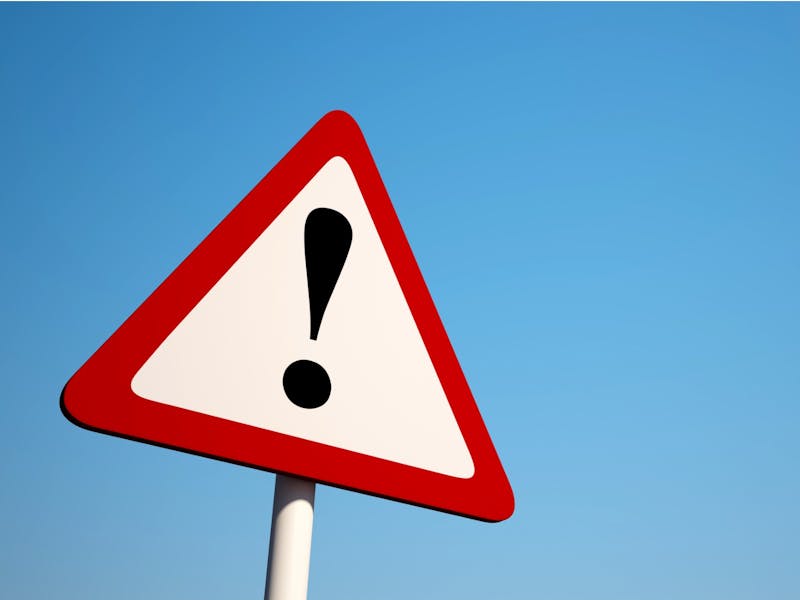 Warning signs, meanwhile, are used to alert people to danger. They essentially give you a head's up, making sure you're aware of your surroundings so you can take the appropriate steps to protect yourself.
Warning signs are instantly recognisable - they always appear as a yellow triangle, with a black border around the edges. Like prohibition signs, they also feature a black pictogram in the centre.
Common warning signs include Highly Flammable (featuring a flame with a line underneath), Slippery Surface (shown by a pictograph of a man falling) and High Voltage (indicated by a lighting bolt with a downward-facing arrow).
Mandatory Signs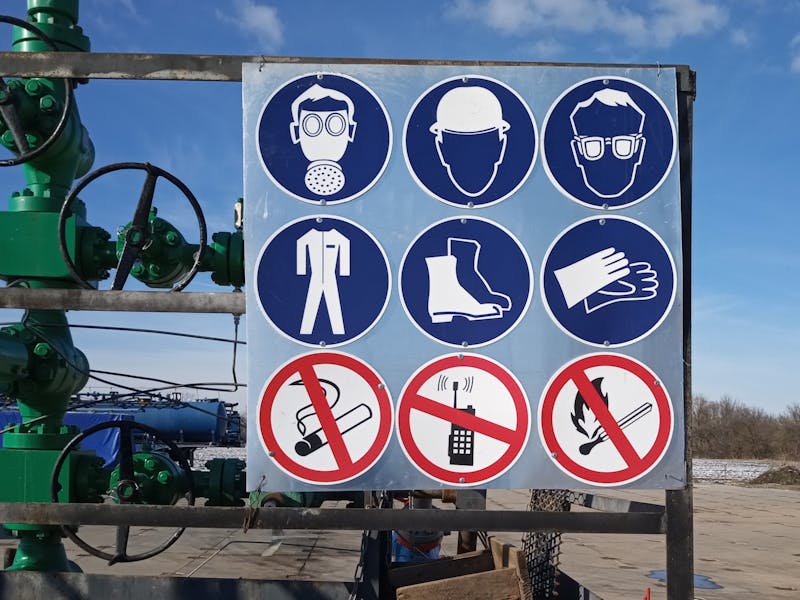 Mandatory signs are the complete opposite of prohibition signs. They tell you to do something, and give instructions that must be obeyed. While they're also circular in shape, mandatory signs are easily distinguishable as they're blue in colour.
Mandatory signs are surrounded by a white border, and may also include a pictogram. This pictogram is also white, and sometimes the sign is accompanied by text to give further context.
You'll find mandatory signs everywhere, especially in worksites where your safety could potentially be at risk. Mandatory signs you may encounter include:
Wear safety glasses
Wash hands
Wear ear protection
Wear foot protection
Wear a dust mask
Safe Condition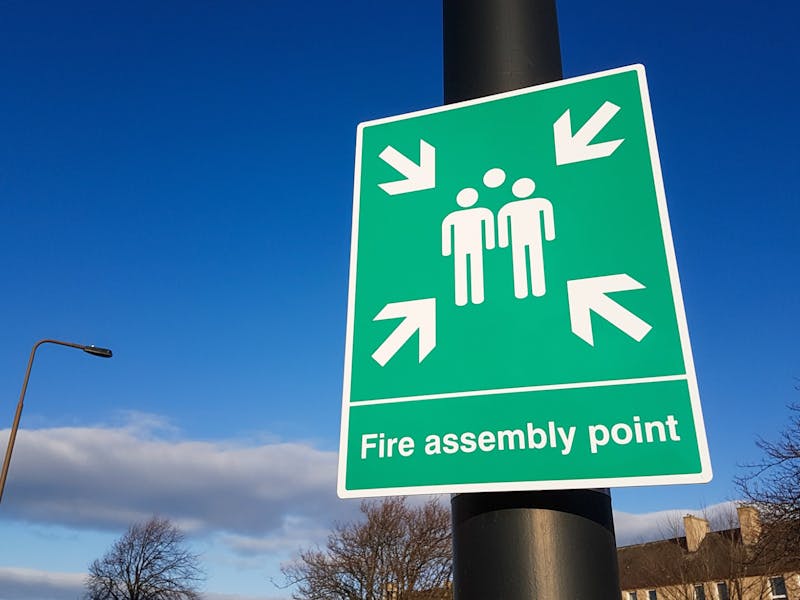 If you see a green sign, then you're actually looking at a safe condition sign. Rectangular or square in shape, safe condition signs are usually paired with a pictogram and some kind of directional signal, helping to point you towards safety.
Safe condition signs are used everywhere, in schools, hospitals and many other public spaces. Directional safe condition signs include Fire Exit and Emergency Exit signs, while non-directional signage like those signalling First Aid, Emergency Stop buttons and Drinking Water are also classified as safe condition signs.
Fire Equipment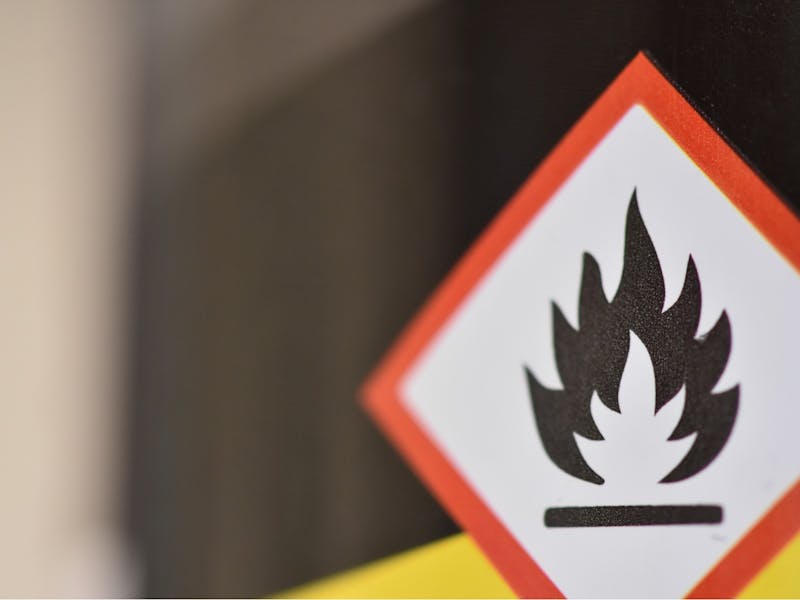 Last but not least, fire equipment signs. They're also red in colour, but to make sure you don't get confused with prohibition signs, they'll always be square or rectangular in shape.
Pretty self-explanatory, fire equipment signs let you know exactly where fire safety equipment is located. Usually surrounded by a white border, examples include - but are not limited to - fire extinguisher, fire alarm call point and fire alarm control panel signs.
And that's everything, your basic guide for understanding safety signage. Familiarise yourself with the five categories, and you'll be prepared for any working environment.
Looking for more safety tips? Don't forget to check out our other guides on the Ironmongery Direct blog.