In this series, we're taking a closer look into different career paths for tradespeople. If you're interested in the art of joinery, or looking for a new career working with wood, we've put together a small guide on where to start. Keep reading to learn more about a potential career in joinery.
What is a joiner?
A joiner is a tradesperson that "joins" wood together within projects. It's a skilled trade that involves making structures, fixings and constructions, either in a workshop on on-site. Joiners don't usually get involved with structural building work as a carpenter would – they're more focused on smaller elements like doors, windows and furniture.
In terms of specialties, there's two main branches of joinery: bench joinery and site joinery. While both types of joinery have their differences, the training and certifications required for both are essentially the same. Here's some of the main differences between the two:

How much does a joiner make?
In the UK, the median wage for the average joiner stands at around £17 an hour, or £33,150 annually as of November 2020. Experience often has an impact on salary, with late career joiners making up to around £42,000.
At entry level, junior or apprentice joiners can expect to start on a wage of around £15,269 per year, or £7.83. Apprenticeship wages differ to standard minimum wage, and £10,000 is around the lowest salary an aspiring joiner could expect.
Is joinery for me?
If you like the sound of precise woodworking, joinery could be the trade for you. However, it's not just a keen eye and a steady hand you'll need. Before we take a look at how exactly to get into a joinery career, you should think about the foundation skills involved with the job:
• You'll need to be comfortable working at height. Particularly for site joiners, it's likely you'll be working on ladders or on roofs fairly regularly.
• You need to be ready for psychically challenging labour. As with most trades, joinery is a pretty active job, so you'll need to spend a lot of time on your feet.
• You'll need to be pretty dexterous. If you're someone who's particularly clumsy, you might struggle with the precise nature of joinery – as well as keeping safe on a hazardous construction site.
• You might need your own transport. Depending on the kind of joinery you go for, you might need to travel to different sites or even spend some time working away from home.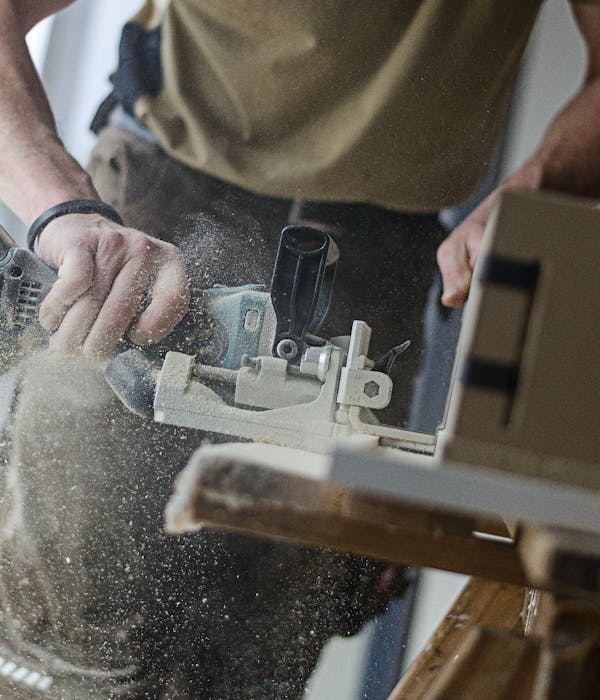 How do you become a joiner?
To become a self-employed joiner, you technically don't need any qualifications, but you'll likely want to get some experience to do that. If you're looking to learn and get a job in carpentry, apprenticeships and further education are great ways to start.
Apprenticeships
The most common route to a joinery career is through an apprenticeship. There are different kinds of apprenticeships to choose from, but they're usually offered by employers through schemes. Typically, you'll spend some time learning at a college or university, while learning practically on the job.
Apprentices usually make a lower wage than fully qualified joiners for a period of 2-3 years on average. However, throughout this time you'll usually gain the experience and knowledge you need to begin a full-time joinery job. Having an apprenticeship in joinery is attractive to employers, and sometimes apprenticeships can lead to permanent roles within the company you've already been working for – though this isn't always guaranteed.
Further education
Another route to a career in joinery is through further education. Usually, these courses aren't free – but there's often plenty of financing options available depending on your age or employment status. There's loads of relevant joinery college and university courses to choose from, such as:
• Introduction to Joinery
• Carpentry & Joinery Level 1
• NVQ Level 2 Carpentry & Joinery
• City & Guilds Carpentry & Joinery Combined Course
• City & Guilds Level 3 Carpentry Diploma
• Accredited Carpentry
Joinery courses that offer work experience are often the most attractive to employers, as this shows you have both the know-how and the practical experience in your arsenal. If you're interested in a particular course, get in touch with the institution and ask about the career options taking the course could secure.
How much does it cost to become a joiner?
Depending on the route you go for, and the type of joinery work you choose, the cost to become a joiner can vary. Here's some of the average costs incurred when becoming a joiner: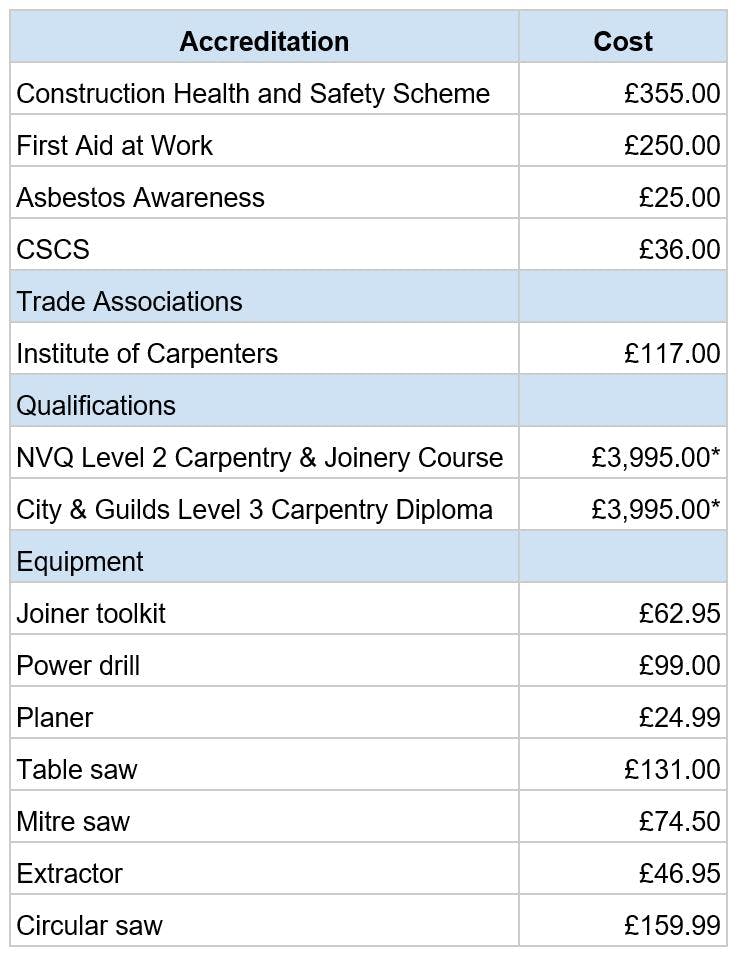 *Remember, depending on your circumstance, grants and financing options are available to students looking for further education qualifications.
Interested in taking up a different trade? Keep up with our tradesperson career series here, and explore a range of high-quality ironmongery products for your projects on our homepage.