It's no secret that tradies like a brew or two on a job, and our latest research has revealed just how much.
According to our survey, tradespeople drink an average of three teas per day whilst working, with over a third (36%) knocking back four or more cuppas per day.
Of course, not every tradesperson is the same when it comes to their brews. Joiners for example, were found to drink the most tea, with 37% drinking four or more cups a day, while plasterers drink the least, with a third (33%) only knocking back two brews per day.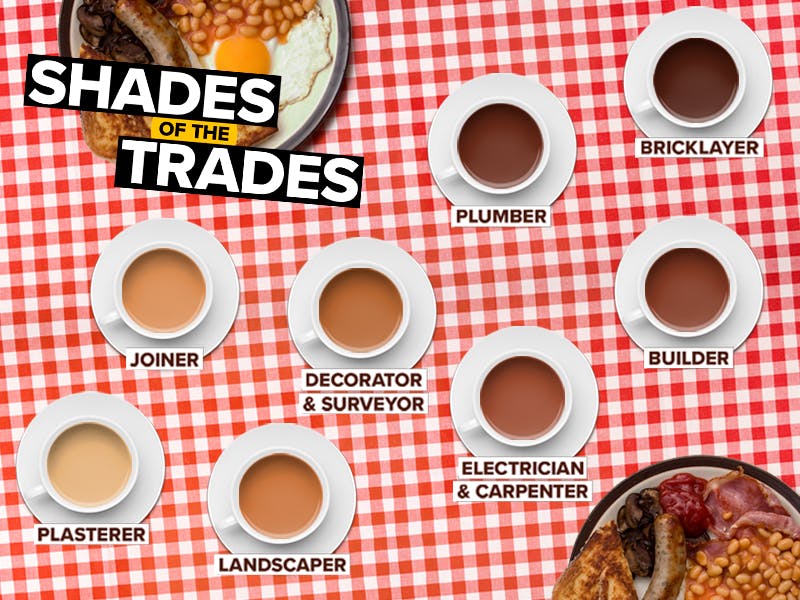 Our research found that bricklayers have their tea the strongest, followed by plumbers and builders, whilst plasterers prefer the weakest and milkiest tea.
If you're not really a tea drinker and want to know what all the fuss is about, or if you struggle to get the perfect strength, we've provided some helpful tips for making the perfect cuppa.
Step 1: Prepare
First things first, you're going to want to get the kettle boiling, get your favourite mug out, your preferred tea bag, sugar or sweeteners and your milk of choice. Once the kettle has boiled, you're ready to begin.
Step 2: Pour your water
Contrary to what you may hear, adding the water BEFORE the milk is the correct way to go. Tea experts say that black tea needs to infuse in boiled water to maximise its taste, so by lowering the temperature when adding milk first you're not getting the best out of your tea.
Once you've poured the water over your tea, you'll want to give it time to unlock its flavours, so it's best to leave it for around 4-5 minutes before moving onto the next stage.
Step 3: Remove the teabag
Once you've left your tea to stew for the desired time, remove the teabag. Give it a quick stir before squeezing it gently against the side of the mug to release the last drops of flavour. Don't mash it as it can leave a bitter taste to the tea.
Step 4: Add the sugar
Our research found that trades were split on the sweetness of their tea. Landscapers (40%) were the most likely to take their tea without sugar, whilst plumbers take it the sweetest, with half (50%) adding two spoonfuls.
Older tradespeople were also more likely to take their tea without sugar, with age groups over 45 commonly taking no sugar at all, whilst 41% of 18–24-year-olds ask for two sugars in their cuppa.
Add your required amount of sugar or sweetener substitute before moving onto the final stage.
Step 5: Add the milk
The final step before the tea is ready to drink is to add the milk.
This is another step that tradespeople are divided on, with different trades tending to prefer their brews to be at different strengths.
When adding your milk, remember to do it gradually. Pouring too quickly can easily result in a much weaker tea than you were hoping for!
Once you've added your milk your tea is now ready to drink! Enjoy!
For more advice check out our other blogs here, and to explore our range of high-quality ironmongery products for all your project needs visit our homepage.